Enjoying a Successful Day on the Water in Southport
Is there a formula to curating a perfect, relaxing day out on the water? We think so! There are some things you could be doing ahead of time to prepare yourself, your guests, and your plans so you can have the most successful day full of sunshine possible. 
For those who are near the town of Southport, there are a lot of things you can do with a boat. Whether you're looking to visit nearby Bald Head Island, try your hand at the sport of fishing, or just spend time on one of the beautiful Brunswick Beaches, there's a little something for everyone.
Here are some important tips to think of as you begin to start planning that next boat day.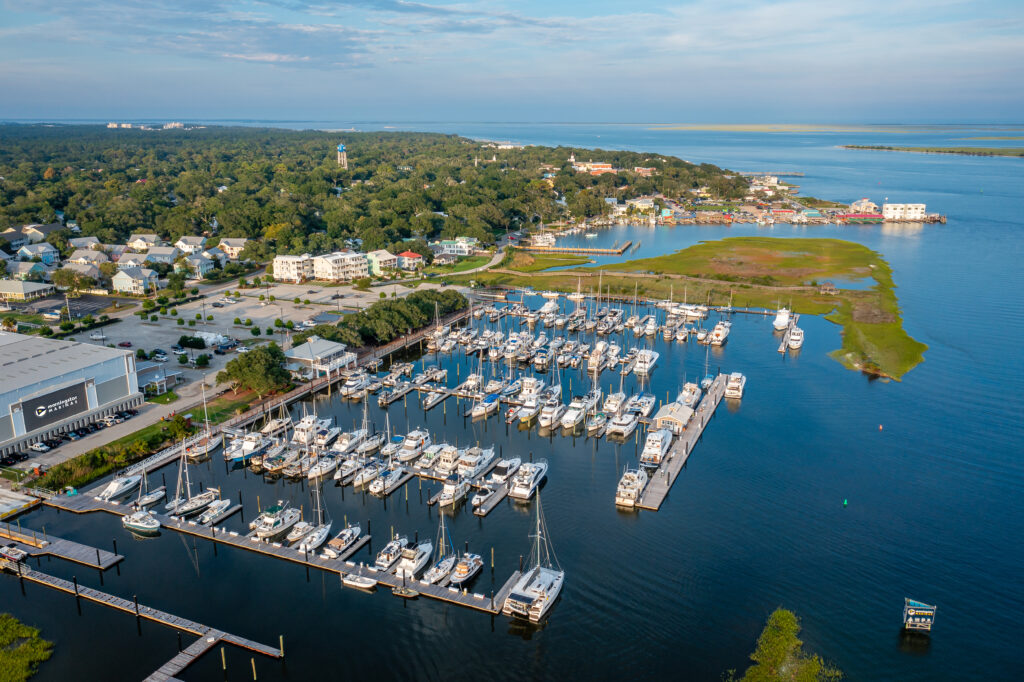 Choosing the Right Boat for Your Adventure
There's no "one size fits all" when it comes to finding the right boat for your next open-water adventure, so it's important to know exactly what it is you're looking for. First, let's determine if you're in need of a man-powered, wind-propelled, or motor-propelled boat. 
Man-powered vessels such as kayaks, canoes, and rafts are great options for smaller bodies of water where you may want to spend the day fishing or exploring the coastline and inlets. It's always recommended to venture out with a friend (and a lifejacket!) but not always the preferable option if you're hoping to get a larger group together for the day. 
Wind-powered and motor-powered boats are going to be the better option for larger bodies of water and group events. Catamarans and sailboats do require an experienced sailor to safely navigate these larger watercrafts, but are also the better choice for longer, transient journeys up and down the coast. 
A pontoon boat is a great option for enjoying the sunshine with friends in a variety of settings, and can be fairly easy to handle regardless of your past boating experience. Plus, some marinas like our Southport location offer rental programs, so you can test out the waters before diving right in on a big purchase of your own. 
→ Morningstar Marinas Pro Tip: There are a lot of reasons you may want to consider renting a boat before you purchase your own. Read more. 
Selecting the Right Destination
A successful day on the water includes a plan, no matter how loose of a plan it might be. Even not choosing a specific destination can be an adventure in itself, but it's always important to know where you'll be headed while on the water. 
This allows you to figure out what type of weather to expect (and what to pack for said weather), what time the sun will rise or set, what scenery or attractions you can expect on the way, etc. Having a destination in mind will also enable you to do a little research in advance about the perfect mooring or marina to dock your boat. 
One great destination to explore is where the Cape Fear River meets the Atlantic Ocean – and there sits North Carolina's quaint and historic town of Southport. This popular destination has served as the iconic set of a few movies and television shows (Nicholas Sparks' Safe Haven adaptation with Josh Duhamel and Julianne Hough was filmed here!), and is also well known for its incredible Fourth of July activities. 
There are plenty of things to do on land around here. Historic museums like the Fort Johnston-Southport Museum, the NC Maritime Museum, and the Old Brunswick County Jail are just a few attractions to consider. Stroll the adorable, tree-lined streets and pop in and out of boutiques and local restaurants. 
→ Morningstar Marinas Pro Tip: Not sure what to look for when selecting a marina to call home — even just for an afternoon or overnight? Here are the top five things to consider as you do your research. 
Packing for Every Scenario
Once you've set sail, there's no turning back. That's why a packing list is crucial to ensuring a good day for all. Depending on the length of your trip, the time of year, and current weather, your needs will vary quite a bit. But here are some general things you should consider packing no matter the circumstances:
Plenty of food & water (including a cooler with ice)

Sunscreen and sun-protective clothing such as a hat

Lip balm with SPF and sunglasses

Change of clothes

Heavier clothes like a sweatshirt for when the sun goes down

Rain gear

Towels

Insect repellant

Motion sickness pills (better safe than sorry!)

GPS device or map of the area

Cell phone or

VHF radio

 

Personal flotation device (PFD) such as a life jacket (one per person aboard)

Visual distress signals like flares

Fire extinguisher

First aid kit
If you're renting a boat from someone like Morningstar Marinas, you can expect that those important items such as the safety gear, first aid kit, signals, flotation and communication devices will come included with your day rental. 
Staying Safe on the Water
As the saying goes, "Luck runs out, but safety is good for life." This is especially true when it comes to you and your passengers' safety while boating. According to the CDC, about 10 people die from unintentional drowning every day. This fact alone is reason to observe extra safety precautions while boating, especially when with young children near any body of water. 
Here are some important safety tips to always observe:
Make sure all safety equipment is onboard and up-to-date (fire extinguisher, PFDs, etc.)

Always pay attention to the weather and its changes – when in doubt, head back to the dock

Never overload your boat with too many people or supplies

Know the "

rules of the road

" and adhere to them to keep everyone on the water safe

Everyone likes to have a good time, but the captain of the boat should always remain  sober

Be sure to have a float plan in place and file it with someone you trust who will be able to alert the authorities if you fail to return from your excursion
It's always better to be prepared for the worst, and hope for the best. Here's a comprehensive safety checklist to run through while you're still on dry land. 
Morningstar Marinas – Visit Southport's New Marina
Conveniently located right on the Intracoastal Waterway at the Cape Fear River, Morningstar Marina's Southport location offers easy access to both the ocean and nearby historic downtown Southport. Our marina features brand new docks all enabled with WiFi, a fully-stocked ship store, full-service, on-site mechanic, fuel, storage, and so much more. Plus, if you're looking to captain a boat, our Southport location also offers full and half-day boat rentals. Learn more.
At Morningstar Marinas, we pride ourselves on the community of boaters we've created across the Southeast's top boating destinations. Our facilities and services paired with our friendly and knowledgeable team members will help you quickly and efficiently get out there on the water, so you can start having fun! Morningstar Marinas is more than just a place to store your boat — we're your destination for a fun-filled day out on the water!