Dry Storage
Morningstar Marinas excels at dry storage operations.  Your boat is stored on a multi-level rack in a completely enclosed building ("barn") or an outdoor rack system under roof.  Each time you want to use your vessel, Morningstar will lift and launch and then retrieve and return your boat to its bunk with our large marine forklifts. Our indoor dry storage options provide you:
Protection against the elements to keep your fiberglass looking showroom new
Enclosed, secure facilities
Access to work/wash racks
Unlimited launches — your boat will be in the water waiting for you
Dockhand assistance during launch and return
Freedom from the need to bottom paint your boat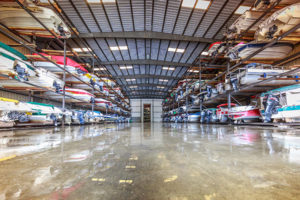 Wet Slips
All Morningstar Marinas offer in-water dockage via designated wet slips. Each of our transient, seasonal and annual wet slips have electric, water and WiFi hook ups for your convenience. Some of our wet slips are secured behind coded gates. Others are monitored 24/7 via security cameras. All of our wet slip customers have the same access to call-ahead concierge services that our dry storage customers do. Our wet slip options provide you:
24/7 access to your boat
Electrical, water and WiFi hook-ups
Dock boxes – at select locations
Cable TV service-at select locations
Dock carts provided for transporting your belongings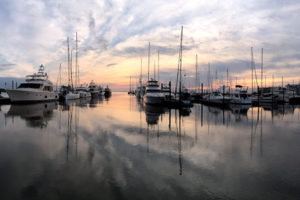 Transient Dockage
Our coastal marinas offer daily, weekly and even monthly transient dockage. Our transient customers enjoy all of our wet slip amenities, which in many cases include:
Showers and bathhouse
Laundry facilities
Access to a courtesy car – at select locations
Clubhouse and/or picnic/grill pavilion
Electric and water hookups plus wifi access
Winter Storage
For boaters who choose to berth their boat at a private dock or store it on a trailer, Morningstar offers indoor dry storage and winterization services during the off season. Our winter storage options provide you:
Protection against winter elements
Enclosed, secure facilities
Winterization and de-winterization
Ready to Get Started?
Our Morningstar managers are ready to help you with your storage needs. Find the location nearest you!