Top Five Things to Consider Before Selecting the Right Marina to Call Home
When it's time to find a new place to house your boat, either full-time or long-term, one of the most important things to remember is that you'll want the marina to feel like a second home. So it only makes sense that selecting the right marina takes time and serious consideration.
After all, there are going to be certain things such as inclusive amenities, convenient location, and knowledgeable staff that will determine if you're ready to consider a certain dock or mooring your central hub. You'll want to feel comfortable, safe, and relaxed when you're at your marina – a true home away from home!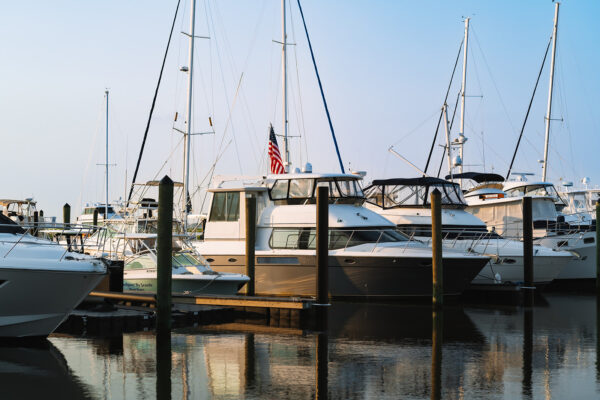 The first thing you need to do before you even start your search is to understand exactly how you intend to use a marina. Ask yourself some of the following questions:
Is it going to act as your stationary weekend floating vacation getaway? 

Or will it be a semi-permanent housing situation where you'll need extra amenities to make your day-to-day life easier?

Will you need a specific type of dockage?

Will you need a fixed or floating mooring?

Do you prefer a private marina to a public dock? 
There are benefits to both – but it all comes down to what is most important for your specific situation. In order to find the right marina to meet your needs, here are the top five things to consider. 
Location, Location, Location
Location plays a crucial part in determining what marina will best suit your needs, but it's not always as straightforward as finding one close to where you call home. 
Depending on how you intend to use the space, ask yourself where exactly you would like to call "home base." Is it located near your physical home or in a more remote setting for a real vacation experience? 
Are there other destinations you'd like to bring your boat to? If so, does the marina you're considering have multiple locations you can visit with ease? Take for example, Morningstar Marinas, who has six convenient locations all along the Eastern coast, with easy accessibility and excellent amenities to choose from. 
Which brings us to another location-related consideration: how's the marina's accessibility, particularly to other waterways? While you want easy-to-access routes, you should also consider how safe your docked vessel will be against other regular boat traffic and during hurricane season. 
Give Us All the Amenities
Amenities are undoubtedly the fun part of any good marina, so it's important to find out what's important to you and your family. These can include anything from on-site dining and shopping options, family-friendly pools and gas grill usage, to courtesy bikes and cars for transient boat guests. And some, like Morningstar Marinas' locations, will even offer high-speed OnSpot WiFi for guests!
And then there are less "fun" amenities, but the important ones you'll definitely be in need of if you're planning to use your boat in a certain way: water and electrical hookups. Does the marina have a convenient fuel and diesel solution for its guests? Is there an on-site mechanic for assistance? Be sure to think through what exactly you'll need access to because not all marinas will offer the same facilities. 
Keep an Eye on the Security Measures
If you're considering docking your vessel at a public dock, one thing you may not immediately think about is the level of security in place. Many opt to house their boat in a private marina for this very reason, because in doing so, they are investing in a more secure location from both other people and the natural elements. 
Many private marinas not only have gated premises and around-the-clock security personnel, but also invest in security cameras to ensure everyone's property and well-being is safe at all times. Sometimes, you can't put a price on security!
Find Your Second Family 
One of the most important things that you might not have initially thought about comes down to the individuals who work at the marina. 
Are they friendly, hospitable, and knowledgeable? 

Do they have years of experience in the boating world and can they help you with more technical questions?

Do they pay attention to detail and go out of their way to make sure you and your passengers feel comfortable? 

Are they passionate about the role they play in the boating community?
You want to trust the staff at the marina you frequent regularly (or potentially live full-time!), so being able to rest easy whether you are on-site or off is important. A sign of a great marina is often their team of experts who are always willing to lend an extra hand and offer valuable advice regarding best practices for boat maintenance and recreation. 
At Morningstar Marinas, we have spent over thirty-five years assembling a team of professionals whose sole goal is operational and customer service excellence. 
Look for a Name that Speaks for Itself
When it all comes down to it, you want to trust your beloved boat and your entire recreational boating experience to a marina whose reputation speaks for itself. Since the boating community is a tight-knit group of people who will vouch for their own good and bad experiences, ask around for first-hand recommendations and feedback about any marinas you may be considering. 
Learn More About Morningstar Marinas
At Morningstar Marinas, we pride ourselves on the community of boaters we've created across the Southeast's top boating destinations. Our facilities and services paired with our friendly and knowledgeable team members will help you quickly and efficiently get out there on the water, so you can start having fun! Morningstar Marinas is more than just a place to store your boat — we're your home away from home.