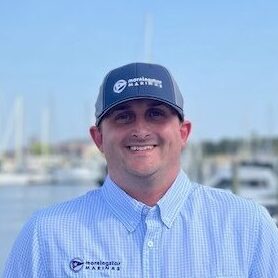 Ryan Roggeman
General Manager
757-587-8000
8166 Shore Drive, Norfolk, VA 23518 Directions
Marina Hours:
Monday - Thursday: 8:30am – 5:00pm
Friday - Sunday: 8:30pm - 6:00pm
Nearby Landmarks:
Little Creek
Norfolk
Chesapeake Bay Area
Located right off open water on Little Creek in Norfolk, Va. The facility is immediately accessible to the Chesapeake Bay and a short boat ride to the James River or Atlantic Ocean.
The Morningstar Difference
With direct access to the Chesapeake Bay, Atlantic Ocean, ICW and James River, Morningstar Marinas at Little Creek is a haven for all boaters, especially anglers and transients, as a full-service marina with top-notch staff and new state-of-the-art Bellingham dock system.
Location Features
Wet Slips Ranging from 25' to 65'
New Storm-Resilient Bellingham Docks
30/50/100amp Electric, Pumpout, Water & WiFi
Car Available for Transient Guests
Fully Enclosed Dry Storage
Forklifts Capable of Boats 28' or 16,000 Pounds
Mobile Launch App Including Fuel & Ice
Foam Fire Suppression System in Dry Stack
Day-Use Work Racks for Cleaning & Minor Repairs
Valvtect Gasoline & High Speed Diesel Fuel
Daily & Weekly Transient Wet Slips
Bathhouse with Showers & Laundry
Fish-Cleaning & Certified Weigh Station
On-Site Restaurant & Close Proximity to Restaurants by Water
Easy Access to ICW & Atlantic Ocean
Walking Distance to Points of Interest
Professional, Knowledgeable & Friendly Staff
Learn More About Little Creek
Our inlet is the ideal spot in the Hampton Roads area, with direct access to open water on the Chesapeake Bay, ICW and James River.
With an onsite restaurant, services and new state-of-the-art Bellingham dock system, Morningstar Marinas is a one-stop-shop for recreational boaters, anglers and transients, right across from the naval base and 20 minutes to the Norfolk/Virginia Beach area.
Store Your Boat
Ready to inquire about storing your boat with us or looking to learn more about our marina? Let us know how we can reach you and what you're interested in chatting about, and we'll be in touch right away.
Customer Reviews
Boat Storage
Discover our array of boat storage options to meet your needs from wet slips and indoor dry storage for your boat.
Learn More
Full-Service Maintenance
We're more than just a place to keep your boat.
Explore
The Morningstar Family
Learn more about what makes us who we are.
Learn More