A Comprehensive Guide to Finding the Right Type of Boat for Your Next Adventure
One of the beautiful things about being a part of the boating world is the variety of watercraft you get to choose from when it comes to selecting the perfect boat to fit your needs. If you walk up and down the docks of any marina, you're guaranteed to see an array of different types of boats of all shapes and sizes!   
But how do you decide on the right type of boat? After all, there's a ton to choose from! What it all comes down to is knowing where and how you're going to be regularly using your boat, and finding the right solution that meets those needs. 
Here are the different types of boats to consider — and the conditions, areas, and purposes they are regularly used for.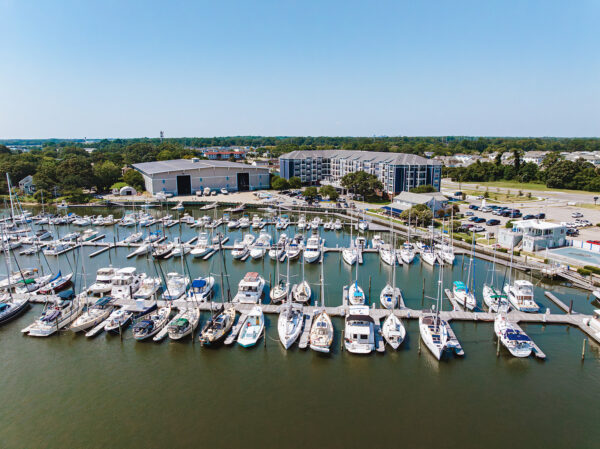 Understanding the Types of Boats Available
While there are several different types of boats in the market today, it would be next to impossible to list every single type out. But all boats (mind you, not ships, which is an entirely different category altogether!) can be classified into three sections: man-powered, wind-propelled, and motor-propelled boats. 
Unpowered or Human-Powered Vessels
Any boat or floating vessel that doesn't use the wind or a motor to propel it forward in the water is considered an unpowered or human-powered boat. The most common types of watercraft you might be familiar with are rafts, canoes, dinghies, and kayaks, all of which are typically used in smaller bodies of water where human power is channeled via the hands or feet into oars, paddles, pedals, or poles to move the boat through the water. 
These types of boats are often used for recreational purposes, including fishing, exercising, and river or ocean kayaking excursions. Typically, these smaller, human-powered boats will fit one or two passengers, but isn't the type of boat you'd want to spend the day out on the water hanging out with a larger group. 
Wind-Powered Boats
Just like it sounds, a wind-powered boat uses sails to harness the power of the wind to move the vessel forward. Examples of these types of watercraft include catamarans, sailboats, daysailers, and sailing dinghies. Sometimes these boats will also come equipped with a motor in case there is a lack of wind or for longer voyages. 
Many larger sailboats and catamarans can fit larger groups of people, and have living quarters below deck for overnight excursions. Because of their larger load-carrying capacity, overall motion comfort, and a lack of a need of fuel in many situations, avid sailors will use this type of boat to cruise up and down the intercoastal ways on a transient adventure.      
You will often see this type of watercraft in the ocean or on larger lakes, where there is enough wind to harness and use for forward momentum. 
Motor-Propelled Boats
Perhaps the most common type of boat, particularly when you're envisioning using the watercraft to relax and enjoy a day out on the water, motor-propelled boats come in all shapes and sizes!
For avid fishermen, a motorized fishing boat can be used in both salt and freshwater bodies, and offers a stable solution to hang out on while you wait for the fish to bite. A center console boat has a hull with no cabin or foredeck, and can be great for fishing or adventuring out for a few hours in the ocean. 
Looking for more of a relaxing, party-esque type boat? Deck boats have an open deck area that provides plenty of seating for a group of people looking to soak up the sunshine while out on the water. Similarly, pontoon boats are also used for recreational activities like swimming and hanging out at the sandbar. 
Powerboats are the perfect choice for the thrillseekers of the world, who want to go fast and find new ways to challenge themselves with watersports. Practice your balancing skills on a wakeboard or see how long you can hold on to your tube as you zip behind one of these high-speed vehicles!
Have you ever dreamed of living aboard your boat for an extended period of time? Now, with a houseboat, you can do just that! These unique homes come in all different shapes and sizes, and can be found all across the globe. Whether you're looking for a long-term housing solution or just a short-term vacation rental, houseboats (also sometimes referred to as a float house) have the ability to combine work and play, all in one place. 
If you've got money to spend, maybe it's time to consider investing in a motor yacht boat, the king of leisure activities out on the water. A typical yacht will be at least twelve meters or more, with one or two diesel-powered engines required depending on where you're cruising. A yacht is the perfect option for longer trips across the water, with all of the modern amenities you'd need to be comfortable for many days right below deck. 
Other Fun Watercraft Options
Did you know that personal watercraft boats — also known as water scooters and jet skis — are also fun options for solo riders or couples? This type of recreational watercraft allows you to seamlessly navigate the water and participate in "boat days" without needing a larger boat that requires a lot more time, effort, and money to keep in good running condition. 
See How Morningstar Marinas Can Help
In the end, it's all about finding the right watercraft to fit your specific needs. Whether you're hoping to "get your feet wet" with a new hobby or looking to upgrade to a larger vessel to take on your next overnight excursion, you can always consult your local Morningstar Marina to see what our knowledgeable staff can do to steer you in the right direction. 
At Morningstar Marinas, we pride ourselves on the community of boaters we've created across the Southeast's top boating destinations. Our facilities and services paired with our friendly and knowledgeable team members will help you quickly and efficiently get out there on the water, so you can start having fun! Morningstar Marinas is more than just a place to store your boat — we're your home away from home. You have fun — let us take care of the rest. Learn more about our boating destinations and services.