Top Five Things You Can Do with Your Boat This Winter
Have the winter blues hit you just yet? February and March are notoriously difficult winter months to get through, no matter where you live. Now that the holidays and the new year excitement have worn off, it can be particularly hard to find that much-needed motivation during these cold, dark days. Plus, your Vitamin D levels have dropped significantly, leaving you sluggish and tired.
But even with all of these factors, there's still some fun to be had! Don't let a little chill in the air keep you from your next boating adventure. Here are five exhilarating things you can do with your boat, even during these colder winter months.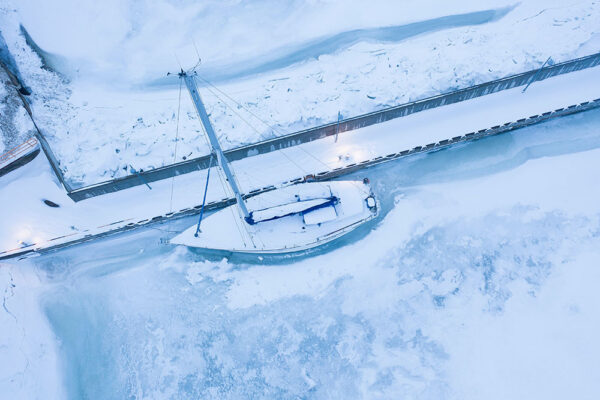 Escape for Warmer Weather
If you have a little flexibility in your schedule and a penchant for sunlight and warmer weather, it might be time to head south! For those who live a transient lifestyle, the "snowbird way" (meaning the migration to warmer weather when winter hits) has too many benefits to pass up. 
For some, the journey itself is the destination, with plenty of little stops planned at various marinas and ports up and down the coast. For others, there is a mapped-out route with a strict timeline in place to get you to your final port. 
Regardless of how or when you choose to head for warmer waters, it's very important that you properly plan ahead for this great adventure. Here's an important checklist to review before setting sail. 
Attend a Boat Show
Looking to travel but not via boat during the chillier months? The "off" season is the perfect time to explore other areas, particularly if they're hosting a boat show that may be of interest to you. 
September through early March is known as prime time in the boat show world, and a perfect opportunity to learn something new or stay up-to-date on all the latest and greatest in boat technology. Here are a few boat shows coming up in the spring of 2023 to consider:
Cast a Line
Even though the winter months are in full swing, it doesn't necessarily mean that you need to pack away your fishing gear until the warmer weather makes itself known. In some areas, winter fishing is even more prosperous than warm weather sports thanks to a lack of competition and fish whose metabolism have slowed down and made them more susceptible to being caught. 
Of course, you need to do your research to see what local laws are about fishing during what most would consider the off-season. For example, some areas of the Chesapeake Bay are only catch-and-release until the springtime when fish are more plentiful. 
Be sure to dress warmly and keep an eye on the weather, as things can change quickly during the colder months out on the water. No matter what temperature your thermometer reads when you started your day, there's a good chance it'll dip much lower as the sun starts to set. Don't be afraid to head in early if it looks like the wind might be changing directions! Always be safe rather than sorry. 
Catch the Sunset
There's nothing quite like watching the sunrise or sunset from the helm. Even during these chillier months, there are plenty of jaw-dropping colors in the sky that are just waiting to be seen. Plus, with the days being shorter at this time of the year, the sun rises later and sets earlier, so you don't need to wake up super early or wait until late to partake in this beautiful occasion!
→ Morningstar Marinas Pro Tip: Bring extra layers of clothing, just in case. It's always better to peel off an extra shirt or sweatshirt than to wish you had one with you! Here are seven other cold-weather boating tips you should be aware of before you head out on the water. 
Plan Your Preventative Maintenance Work
Even if you decide to not venture out on your boat, there are still plenty of things you can do to prepare for what's ahead. For one, it's the perfect time to perform preventative maintenance or tend to any issues that popped up during the summer. 
Here are a few maintenance tasks to check out:
Inspect the engine and change oil and filters as needed

Drain and replace any engine lubricant and top off fluids

Inspect spark plugs and belts for any issues

Clean the hull and look for any cracks or structural issues

Tighten your propeller and make sure there's no noticeable damage

Regrease the propeller shaft and make sure system is clear of any debris

Test battery level and clean electrical lines to see if they're degrading

Check out the plumbing lines, bilge pump, hoses, etc. to ensure they're all in good working order
Whether you're addressing a specific issue or just cleaning up around the boat, the work you put in will help keep your boat in the best shape possible and reduce typical wear and tear. Not sure how to fix a problem? It might be time to call for help from a boat mechanic. 
We understand that winter boating isn't for everyone. In some instances, it's better to prepare your boat for the off-season, and wait until spring time to enjoy the waterways again. Here's a quick guide to help you prepare your boat for the off-season if you choose to do so. 
Stay Warm & Safe with Morningstar Marinas
Our dedicated team at Morningstar Marinas is always here to help, whether you're looking for a rental slip at your next warm weather destination or some recommendations for a trustworthy marine mechanic to answer your boat-specific questions. 
At Morningstar Marinas, we pride ourselves on the community of boaters we've created across the Southeast's top boating destinations. Our facilities and services paired with our friendly and knowledgeable team members will help you quickly and efficiently get out there on the water, so you can start having fun! Morningstar Marinas is more than just a place to store your boat — we're ready to be your home away from home.