The Importance of Developing a Comprehensive Boat Maintenance Checklist
Much like your other vehicles, routine maintenance is a crucial part to keeping your boat running smoothly throughout the season. Some things must be checked and dealt with on a weekly or monthly basis, while others should be done at the beginning or end of the boating season. Boat owners who consistently follow a maintenance schedule are always rewarded in the long term.
For one, regular inspections allow you to get to know your vessel better, benchmarking any quirky things about your boat and giving you a chance to know your boat from top to bottom. You'll be able to quickly spot any potential problems, saving you the time and expense of hefty repairs had regular inspections been skipped.
If you view your boat as a recreational investment, you'll want to keep it in mint condition for as long as possible. After all, what use is a boat if it doesn't work?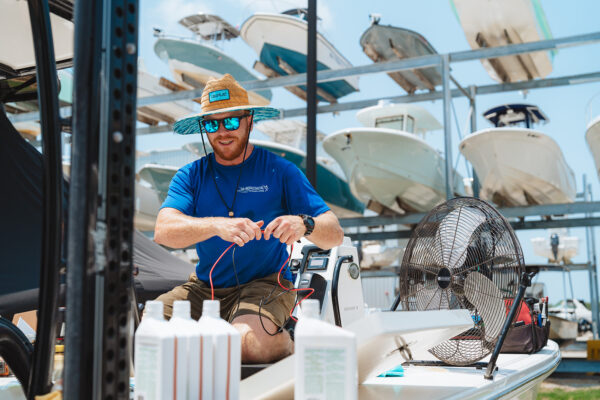 Routine maintenance will also ensure both your and your passengers' safety every time you take it out for a spin. That's why we here at Morningstar Marinas always recommend developing a customized maintenance checklist and schedule that will keep your boat in the best shape possible at all times.
Here's what you're going to want to include when developing your own boat maintenance checklist and schedule:
Freshwater Versus Saltwater Boating
Before getting started, it's important to develop a maintenance plan that takes into account the type of water and activities your boat will be used for — namely, freshwater or saltwater adventuring. 
The conditions that your boat will face in freshwater as opposed to saltwater environments are uniquely different. 
While freshwater has been known to develop bubble-like blisters on a boat's hull over time, saltwater can corrode metal ten times faster than freshwater. Saltwater can also negatively impact the boat's hull, thanks to barnacle and algae build-up. 
The only way to combat the destructive nature of saltwater is via hypervigilance and creating a regular maintenance plan that accounts for the additional issues that this type of environment brings with it. Be sure to adapt your boat maintenance plans to the type of water your craft will primarily be used in. 
Preparing an Engine Maintenance Plan
It's no surprise that your boat's engine plays an important role— in fact, it's one of the only ways you'll actually be able to get out of the marina and enjoy the open waters!
Boat engines typically require service the way car engines do: every few hundred hours (rather than miles) or on an annual basis. But you should always refer to your marine engine's manual for the specifics because every engine is different. 
While many boat owners wait until it's time to winterize and put away the vessel before thoroughly inspecting and tending to their boat engines, it's always a good idea to check on things periodically during your boating season. 
Just like a car, your boat's engine will need oil and filter changes. You'll also need to drain and replace the engine lubricant on a regular basis and top off fluids as needed. Don't forget to inspect spark plugs and belts while you're conducting other routine maintenance procedures and keep an eye out for any suspicious fuel or oil leaks. 
Morningstar Marina's Tip: Saltwater boat engines should be flushed out with fresh water each and every time it's used. This will prevent a potential salt build-up, which can cause some serious damage to your engine!
Hull Maintenance Plans According to Material Type
The cleaner the body of the boat — AKA the hull — is, the better it will be on the water. In fact, a dirty hull has been found to increase fuel costs by as much as 30%!
Most boats are constructed of fiberglass, which is best maintained by being cleaned regularly with freshwater. Typically, boat owners will wax and polish their fiberglass hulls in the spring and in the winter, before the boat heads to storage. 
Aluminum hulls need to be kept dry to avoid corrosion. Use a marine-safe aluminum cleaner to serve as a brightener and polish that will protect the metal over time. 
Though wooden boats are far less common these days, any wooden finishes must be meticulously kept clean and sealed with a paint of varnish to protect it from water damage over time. 
After each outing on the water, carefully inspect your hull for any cracks, severe abrasions, or other structural issues. The sooner you address a problem, the easier (and less expensive!) it will be to find a solution. 
Propeller Maintenance for Optimum Navigation
Before you launch your boat, inspect the propeller to ensure it is still tightened and without any significant dents or damage. Even the smallest of dents in the propeller can force your engine to work overtime, making it less fuel-efficient. 
Every season, you will want to remove your propeller in order to regrease the shaft and inspect the entire system to make sure it's free of any debris that may have gotten wrapped up in it over time. Even the smallest amount of fishing line could cause gear-case leaks. 
Electrical and Plumbing Maintenance Considerations
Don't wait until something doesn't work on the boat to address this issue — keep voltage and digital meters on hand to gage the health of your electrical lines and battery before taking the boat out on the open waters. 
Electrical lines naturally start to degrade over time, mostly due to a build-up of mud and debris. That being the case, it's crucial to check these lines frequently and be prepared to replace and repair them as needed. Cleaning them off regularly will help slow down the degradation process so incorporate that regular cleaning into your maintenance routine.
A car battery and a boat battery are similar in that they are both essential to starting the vehicle's engine. But unlike a car, your boat's battery will encounter a different set of elements. Take good care of the battery, inspecting it regularly for corrosion and build-up and cleaning the connectors as needed. 
If your boat has a bathroom and running water, you'll also need to perform regular plumbing maintenance in addition to these other tasks. 
Inspecting and addressing any bilge pump issues is another wildly important part of a comprehensive routine maintenance plan. After all, failing to make sure your bilge pump is operating normally could mean losing your boat altogether!
The bilge pump collects the excess water that comes on to the boat, and removes it so the boat can stay afloat. Be sure to check for faulty hoses and clogs that could cause a real issue with your vessel. In some cases, you may be able to add a second bilge pump for 
Other Important Things to Note in Your Maintenance Plan
You may not think keeping the deck clean is an important part of operating a boat, keeping it clean and dry after each use will keep things in pristine condition. Store some extra towels onboard to wipe things down completely before you and your passengers disembark.
Do the same for other, internal areas of the boat such as the seating areas and dashboard, etc. Consistently inspecting and cleaning any vinyl areas with a marine-grade cleaner will ward off potential wear and tear. 
Lastly, a crucial element in properly maintaining your watercraft is knowing when you can handle a situation — but also knowing when it's time to call a professional. There's a good chance you'll need to let a professional mechanic with years of boat maintenance experience take a look at some of the more challenging issues that arise. After all, a professional will be able to address an issue and prevent it from becoming a serious problem. 
Looking for some extra advice? Our dedicated team at Morningstar Marinas is always here to help, whether you're looking for a rental slip or some recommendations for a trustworthy marine mechanic. Visit our website for more information. 
At Morningstar Marinas, we pride ourselves on the community of boaters we've created across the Southeast's top boating destinations. Our facilities and services paired with our friendly and knowledgeable team members will help you quickly and efficiently get out there on the water, so you can start having fun! Morningstar Marinas is more than just a place to store your boat — we're here to offer you an unforgettable boating experience, everytime.
You make the memories — we'll take care of the rest.