Winter Fishing on the Chesapeake Bay
There are a lot of reasons you might venture out to the Chesapeake Bay during the winter months — but there's only one reason for those who are avid fishermen (or fisherwomen!). Just because the winter months are here doesn't necessarily mean you need to put away your fishing gear until the warmer spring months appear.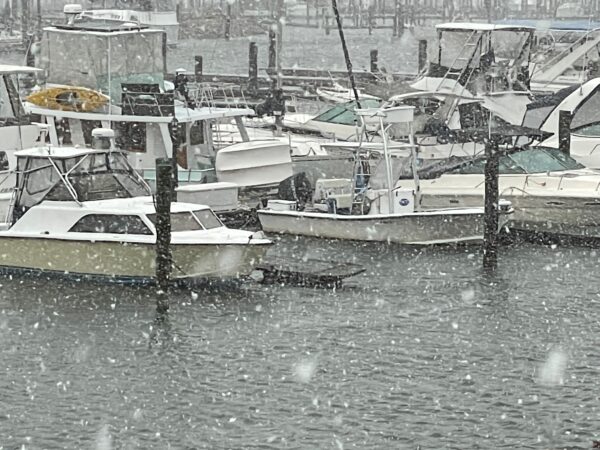 As North America's largest estuary, the Chesapeake Bay welcomes hundreds of freshwater rivers (including the Susquehanna, the Potomac, and the Rappahannock rivers) as well as the salty Atlantic Ocean, creating a delightful mix of inshore and nearshore fishing retreats. This massive watershed touches different parts of six different states — New York, Pennsylvania, Virginia, West Virginia, Maryland, and Delaware. 
The Bay is a haven for ardent anglers, with a wide variety of different fish to choose from, even during the slower winter months! In fact, there are a lot of benefits to fishing this time of year. 
For one, a fish's metabolism slows when the water cools, making it that much easier to lure in your catch. There are also far less people casting off when it's cold outside, so there's less competition all around. Thanks to the unpredictable weather and ever-changing climate, the Chesapeake Bay offers fishing adventures all throughout the calendar year. 
Different Types of Fish You'll Find in the Chesapeake Bay
This massive watershed offers a diverse habitat for hundreds of species of marine life all along its upper and lower bay areas. Here are a few of the most common fish species you're likely to come across. 
Striped Bass
Locally referred to as a "rockfish", this fish has a large, gaping bucket as a mouth and boasts brilliant stripes. It's arguably the best tasting and most popular fish found in the area, with the flakiness of mild fishes but with a stronger, delicious flavor that isn't too overpowering or "fishy". 
You can expect to see striped bass in the Bay from May through February, depending on the year. Head to the rocky point beach at the upper Chesapeake Bay or Susquehanna Flats for the best areas to catch a rockfish. 
Bluefish
The bluefish species are an exciting catch for experienced fishermen, because they often take you on a bit of a ride before you're able to fully reel them in. Plus, these shallow water fish can grow to incredible sizes, making it a real prize when you finally pull them out of the water. 
You can expect to see these fish in the Chesapeake Bay from May through October.
Summer Flounder
While the Chesapeake flounder aren't the most attractive looking fish out there, they're relatively easy to catch. Focusing on flounder is a great beginner's task when you are first learning how to fish. Plus, they're a delicious treat for those who cast their line near the shallow bottoms inshore. 
You can expect to see the flounder in the Bay from August through December, depending on weather conditions. 
Cobia
Another common fish species found in the Chesapeake Bay, cobias migrate to the area and then reproduce, so they're a plentiful option. These large, long fish sport a dark stripe down the sides of their bodies, and can often be spotted in the Lower Bay from May through October. 
Spotted Sea Trout
Spotted or speckled sea trout sport silvery, purple hues and are known for sending out a drumming or purring noise during their mating season. But these trout are known for more than just the noise they make: they're delicious to boot!
The largest speckled trout are often caught in the spring, but many spend their winters in the Lower Bay and Middle Bay regions. 
No matter where you decide to cast off, the Chesapeake Bay offers something for everyone.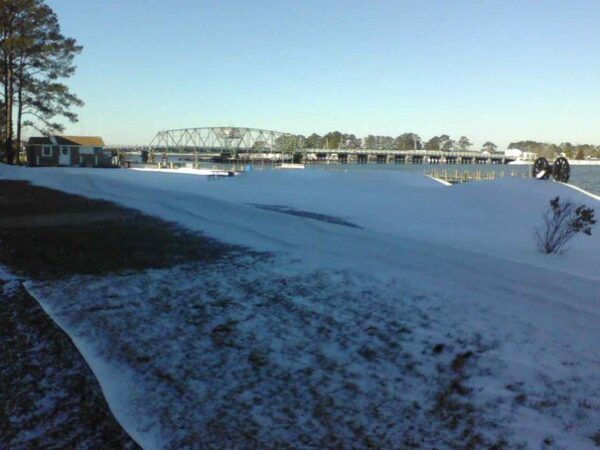 What to Add to Your Fishing Packing List
It's best to be prepared for your next fishing adventure, especially when it takes place during the colder season. 
Here are a few things you should be sure to add to the list:
Your valid fishing license for adults ages 16 or older (It's also important to know the regulations in your state before heading out) 

A fishing rod with a reel and fishing line

Sinkers

Hooks

Live bait (the go-to bait for the fish that swim in the Chesapeake Bay is typically earthworms or nightcrawlers, blood worms, and grass shrimp. You can also use bait strips, but these don't work nearly as well as live bait)

Needle nose pliers with cutters to cut the fishing line and help unhook your catches

Weather protection wearable gear (a winter jacket, hat, gloves, etc.)

Snacks

First aid kit (just in case!)
→ Morningstar Marinas Tip: Still not sure what you need to stay warm and safe during your winter fishing excursion? Here's a comprehensive guide to cold weather boating which can easily be applied to your next fishing trip. 
Top Tips for Winter Fishing on the Chesapeake
December is one of the best months to catch large fish in the Chesapeake Bay, but this is dependent on the year's weather conditions. As the water temperatures drop, the fish start to get a little sluggish — and hungry. But there are still some things to consider before you cast your line. 
Know the Rules 
Do you know the rules about what you can and can't keep from the Chesapeake? It's always important to note bag and size limits, as well as the open season dates in the area, particularly during the "off" season or when there are specific competitions going on. 
For example, the Maryland Department of Natural Resources puts out its rules for striped bass regulations each year. And in many instances, it's only catch and release from January 1 until the start of the spring season. Be sure to check your local regulations ahead of time. 
Know Where to Go
Because the Bay is so massive, it's easy to get overwhelmed with where to go. If you're not going out on a fishing charter or trying your hand at kayak fishing, here are some large, public fishing piers and nearshore or inshore areas to add to your list.
Find a Marina
Your other option is to know someone with a dock on the Bay. Did you know that Morningstar Marinas has two marinas with easy access to the Chesapeake? That's right: both Morningstar Marinas' Little Creek and Gwynn's Island locations are conveniently located near some of the best fishing opportunities in the area!
→ Morningstar Marinas Tip: Check out this interactive fishing map to see what's available in your area currently!
Know When to Fish
The best time to cast your line in the waters of the Chesapeake Bay is typically during early morning hours or late at night, when the light is low and the fish are hungry. Of course, this will vary depending on the type of fish you're going for, since they all tend to have different active hours. Do some research about what you're looking for ahead of time to not waste any time out there in the cold! 
Morningstar Marinas is Open for Every Season
At Morningstar Marinas, we've created a community of boaters who come together to enjoy life on the water. With locations up and down the Southeast and mid-Atlantic areas, our full-service marinas and seasoned staff are ready to help you make the most out of your next fishing adventure on the Chesapeake Bay. With clubhouse facilities and picnic areas, clean facilities, restaurants, fuel, fish cleaning stations, and ship's stores, Morningstar Marinas is more than just a place to store your boat—it's an experience you'll never forget.
Visit Gwynn's Island – right on the Chesapeake Bay. 
Visit Little Creek – with direct access to the Chesapeake Bay, the Atlantic Ocean and Intracoastal Waterway (ICW), and the James River.