Preparing Your Boat for the Off-Season
While the fall season is full of beautiful colors, great fishing opportunities, and picturesque backgrounds, it is also an indicator that the colder months are just ahead. And with the colder months comes a new set of questions posed for you as a boat owner. 
"When do I need to begin the winterization process?"
"Where will I be storing the vessel during the off-season?"
"What other preparations do I need to be making to take the best care of my boat while it's in storage?"
We get it — this time of year can be overwhelming as it is! That's why Morningstar Marinas is here to help make sure it's all smooth sailing. But first, let's talk about a few ways you can start to prepare your boat for the upcoming winter season ahead.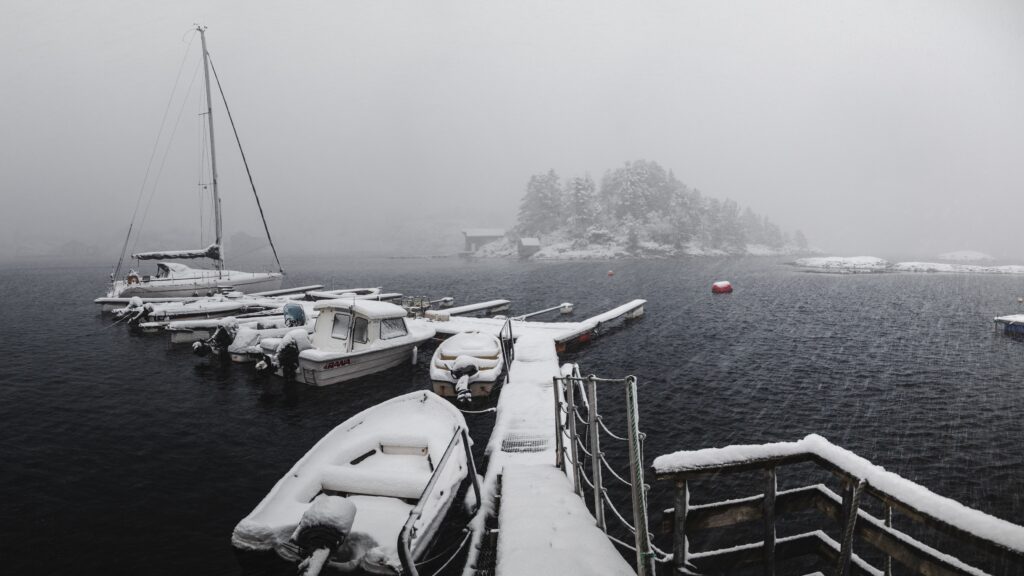 Understanding the Importance of Winterization
Winterization is the process of making sure there isn't any part of your boat left vulnerable to the freezing temperatures that come around the colder parts of the year. This is primarily done by draining any systems onboard of water or other fluids and replacing them with antifreeze. This is especially important for those who own an inboard boat and also live in an area where temperatures drop below freezing for any significant period of time. 
But the damage done by not properly winterizing your boat can affect just about anyone! Since fresh water expands significantly in volume when it freezes, it will push outwards with a lot of force, cracking an engine block, damaging fiberglass, or destroying an entire refrigeration system in a matter of hours. Most boat owners who fail to properly winterize their boats won't find out about this damage until the spring, and that repair process can take a chunk of the boating season and a chunk of change from their wallets!
Morningstar's Winterization Services
Since boats are made for the water, it's quite ironic that water itself poses the biggest risk to your vessel during the off-season. As we mentioned earlier, it can be a catalyst for freeze-damage, mold or mildew growth, and corrosion. That's why it's best to rely on a professional to ensure the winterization process has been completed properly.
We understand that the winterization can be a heavy lift for some of our patrons — that's why Morningstar Marinas keeps your boat happy and healthy, even in the off-season! We offer services that will ensure both your engine and your ancillary systems are properly protected from the colder months. Here are a few of the many services we provide (be sure to check with your specific marina for their specific services):
Outboard/Inboard Winter Service
Winterizing the outboard, changing the lube, fog engine, and grease. Adding stabilizer to fuel, pull prop, and grease shaft, as well as spraying the engine. 
Winter Service Full 4 Stroke
Winterizing the outboard, changing the lube, fog engine, and grease. Adding stabilizer to fuel, pull prop, and grease shaft, spraying the engine, and changing oil and filters.
Annual Service
Will be completed annually or every 100 hours (whichever comes first), and includes changing oil, oil filter, fuel filter, gear oil, and greasing the engine points and prop shaft. Changing the spark plugs and timing belt, too. 
Other Important Boat Services
Draining and protecting your boat's engine system with antifreeze, fogging carbureted engines as needed, and working to ensure your boat's water system, waste tanks, generator, and ballast tanks are fully protected. 
Shrink-Wrapping Your Boat
Another way you can protect your boat is by shrink-wrapping it to avoid potential weather damage. The shrink-wrap solution is used as a protective cover for your boat and other important equipment, and can not only protect against the elements that come with the winter, but can also prevent rodents, insects, and other pests from invading your space during the colder months. But this process needs to be done correctly in order to work, which is why Morningstar Marinas' team of professionals is always here to help!
Keep It Clean: Winter Boat Detailing
Before you decide to store your boat for the winter, you're going to need to clean it properly. Not only will this dissuade pests from visiting your vessel in the colder months and making more of a mess, but it will also make it that much easier to get things up and running in the spring!
Not feeling up to getting down on your hands and knees and scrubbing the hull until it shines like new? Many marinas, including Morningstar Marinas, offer extensive boat wash, wax, and detailing services that are designed to keep your watercraft looking its absolute best. After thoroughly cleaning the exterior of your boat, we'll apply a wax that protects your fiberglass from future sun damage and oxidation. We can also expertly paint the bottom of your boat to keep it looking and performing its very best.

Winter Storage Solutions
Of course, the most optimum way to store your boat in the colder months is by storing it safely indoors in a climate-controlled facility. Dry storage helps your vessel to stay clean and dry,  and is known to extend the life of a boat and reduce maintenance costs in the long-run. But there are other boat storage solutions available, depending on your circumstances and location. Learn more about Morningstar Marinas' winter storage solutions. 
Morningstar Marinas Pro Tip → Did you know that you can take advantage of our early-bird special pricing for winter storage, too? Learn more. 
Don't wait until it's too late to properly care for your boat this winter. See how Morningstar Marinas can safely store your vessel for the winter, and get her up and running just in time for next season!
Morningstar Marinas: A Place to Call Home Year-Round
At Morningstar Marinas, we pride ourselves on the community of boaters we've created across the Southeast's top boating destinations. Our facilities and services paired with our friendly and knowledgeable team members will help you quickly and efficiently get out there on the water, so you can start having fun! Morningstar Marinas is more than just a place to store your boat — we're here to offer you an unforgettable boating experience, every time.