Spend an Afternoon Learning the History of Southport, North Carolina
As one of the oldest communities nestled along the North Carolina coast, Southport possesses a rich history that the community has worked diligently to maintain, even after all of these years. 
Originally named "Smithville" in 1792 after Benjamin Smith, a colonel in the Continental Army during the Revolutionary War (and later the governor of North Carolina), the town grew as a fishing village thanks to the nearby military activity. Later, the town was renamed Southport in 1887 in an effort to position the area as a major shipping port. 
Today, Southport is known for its jaw-dropping coastal vibes, mouthwatering seafood fare, and rich history. But how did this charming community come to be — and what pieces of history still remain to this day that are must-sees when you visit?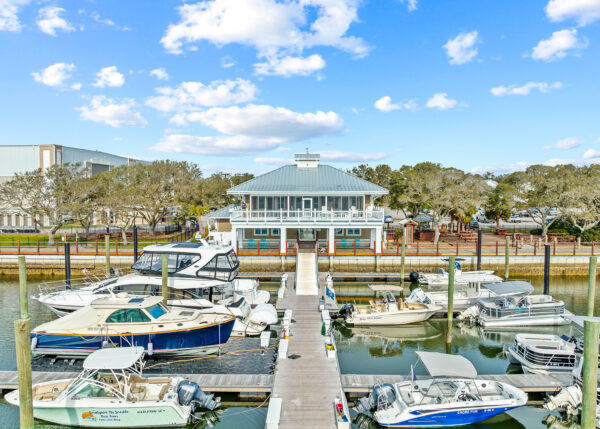 Historical Sites to See 
One of the most unique aspects to the area is how carefully the historical sites and local information has been preserved for future generations to experience. Here are some must-see historical sites to visit when you're in Southport this summer. 
North Carolina Maritime Museum at Southport
Standing tall at the confluence of the Cape Fear River, the ICW, and the Atlantic Ocean is the North Carolina Maritime Museum, inhabiting the officer's quarters portion of Fort Johnston. Its mission is to collect, preserve, and interpret the maritime history of the Lower Cape Fear region, and has been voted as one of the best attractions in the area by locals and visitors alike. It's an absolute must for anyone who hopes to see the culmination of historical artifacts from all over the area. 
Old Brunswick County Jail
Although its previous wooden structure was destroyed by hurricanes and a devastating fire many years ago, the now-brick, two-story building was completed back in 1904. It includes living quarters for the jailor and their family, as well as two cells and a runabout on the second floor. Each cell includes four bunk beds, a bathroom area, and a wash basin. In 1986, actress Sissy Spacek was filmed in this very place for iconic jail scenes in the movie "Crimes of the Heart". 
Old Smithville Burial Grounds
This historic cemetery dates back to the mid-1700s, with monuments and markers honoring some of the most notable individuals in American history such as Benjamin Smith, Captain David Hicks,  and General Robert Howe. Today, it is the final resting place of many soldiers from both the American Revolution and the Civil War. It's located right across the street from the historic Old Brunswick County Jail, at the corner of Rhett and Nash Streets. 
River Pilots Tower
For over 250 years, this tower was instrumental in guiding ships safely into the Port of Wilmington with the help of Southport River pilots. No longer in service, what stands on West Bay Street today was built in 1940, replacing an old wooden tower. Its marker is located along the sidewalk to the west of the tower. 
Fort Johnston-Southport Museum & Visitor' Center
In the 18th century, established British settlements fell prey to Spanish explorers who exploited the coast's lack of fortifications. As tensions grew over in Europe and Spanish privateers continued to raid the area, it was determined that something needed to be done in response. 
In 1744, Governor Johnston brought together an appointed committee that decided where the best location would be to create a fort that would protect the Cape Fear River region. By 1749, Fort Johnston became a reality, and it still stands to this day in its revered position after 250 years of federal service as the oldest active-duty fort in the United States.  
Although it was once a British fort during the Revolutionary War, it was later occupied by soldiers of the Confederacy to help blockade runners who were supplying the troops during the Civil War. In January of 1865, Fort Johnston was seized by the Union Army after the Battle of Fort Fisher.
Other Historical Sites to Note
There are many other historical stops to add to your day trip out on the Cape Fear River, including historic churches and homes (be sure to stop by Southport's oldest standing house, the Walker-Pyke House from 1800), Brunswick Alley, and the Old Southport Yacht Basin. 
Exploring Southport Today
No matter what drew you to this quaint beach town, there is a little something for everyone to do while you're visiting. Here are a few ideas to build your itinerary around when you visit the area:
Take a tour

: There are all different types of tours to try when you visit the Southport area. Are you a history buff or more of a Hollywood enthusiast? Either way you can take a self-guided tour all over town at your leisure!

Take a drive

: You've come to the right place to drive around the Cape Fear River Circle, so why not open up that sunroof and take a breezy drive along the water? Covering more than fifty miles, the route will take you from Southport to Wilmington — and even includes a ride across the ferry!

Shop 'til you drop

: The downtown area is always a fun way to pass the time. If you enjoy hunting for antiques, unique artwork, or eclectic nautical treasures, you're going to want to add this stop to your agenda. 

See the sites

: Looking for something educational and interesting to spice up your afternoon? Be sure to stop by the North Carolina Maritime Museum, Old Brunswick County Jail, or Fort Johnston to get a good look at the local history for yourself!

Get some sun – or see what's biting

: Near the downtown area, you'll find the Southport Pier and Riverwalk, the perfect place to birdwatch, people-watch, or try your hand at casting out to see

what's biting

. 

Take a cruise

: There's nothing better than getting out on the water to see the sights from a whole new vantage point. Whether you're looking to

rent a boat

for the afternoon or charter a sunset cruise with a group of friends, Southport offers plenty of options. 
Visit Morningstar Marinas Southport 
Conveniently located right on the Intracoastal Waterway at the Cape Fear River, Morningstar Marina's Southport location offers easy access to both the ocean and nearby historic downtown Southport. Our marina features brand new docks all enabled with WiFi, a fully-stocked ship store, full-service, on-site mechanic, fuel, storage, and so much more. Plus, if you're looking to captain a boat, our Southport location also offers full and half day boat rentals. Learn more.