Find the Best Fishing Spots in Southport
Welcome to Southport, North Carolina, a quaint and historic southern charm of a town that sits at the mouth of the Cape Fear River along the Intracoastal Waterway. With a small population of just over 4,000 residents, this area is the ultimate tourist getaway that was made popular by acting as a filming location for a few of famed author Nicholas Sparks' books-turned-movies. But the area is so rich in many ways that it's become more than just a place to hop around town for a few hours before heading towards its larger sister city, Wilmington, NC. 
Notorious for its picturesque scenery, dedicated preservation, and ultimate relaxation, this maritime community is also the perfect destination for your next fishing adventure.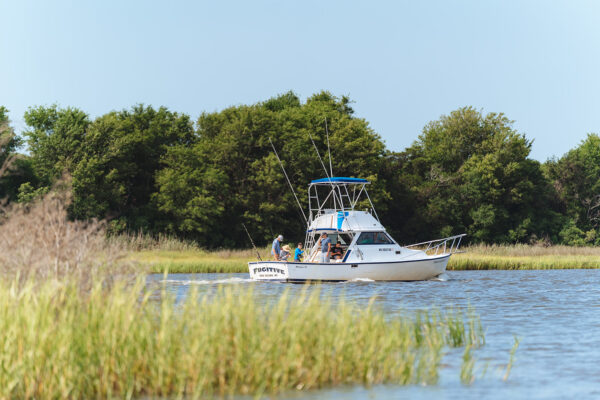 Different Types of Fish You'll Find in the Southport Area
The waters surrounding this sleepy little tourist town are considered some of the richest fishing grounds found throughout the Carolinas. Even though it has plenty of inshore sweet spots for anglers of all backgrounds, it also offers easy access to some of the best offshore fishing locations in the state of North Carolina, making it a must-visit destination. Here are just a few species you can expect to encounter in the area, year-round. 
Summer Flounder:

If you're looking to catch some real quality fish, the Cape Fear River's blackwaters are known for their large flounder population and will not disappoint! Please check regulations to ensure you are allowed to catch these fish; it changes depending on the season.

Red Drum: As the water warms, you can expect to find red drum fishing to heat up along the southeastern coast before it really takes off in the summer months.

The best time of year to catch

drum

is late summer to the middle of fall. The bull reds will be right off the beach and around the jetties

. We recommend you

use

live mullet in the spring and fall when fishing around the jetties and off the beach

.

In the spring and early

summer,

you can catch them

on topwater walking baits

and

swimbaits

around the mouths of creeks.

Virginia Mullet:

Come springtime, these schools of fish visit the mouth of the Cape Fear River and make for some steady action for the more eager angler.  

Sheepshead: There are certain places (hint: fish near the bulkheads beneath Snow's Cut Bridge) in the river right outside of Southport that are attracting these sheepshead.

Fishing vertical – or jigging – for sheepshead is by far the best way to catch them, as they have

a very light

bite that you will

most likely not

feel. They love to eat small mussels and fiddler crabs. 

Speckled Trout: Headed to the area in late fall? You're in luck: Southport is the perfect place to catch some of the biggest speckled trout around in the fall or early winter!

Try throwing

MirrOlures

or smaller swimbaits with a 1/4 or 3/

8 oz

jig head. Specks tend to have

very soft

mouths, so make sure your drag is set properly. 

King Mackerel:

This slow-trolling favorite can be found just off the beach, but be prepared for a little bit of fight from these good-sized fish! 

Spanish Mackerel:

Spanish Mackerel can be found from the beach up to 3 miles offshore. You can catch them using casting jigs, yo-zuri crankbaits or trolling with a straw rig on size 1 or 2 planers, depending on depth.

Black Drum:

Blacks will push into troughs on the beach and into the intercoastal in the summer and you can catch them on shrimp, mussels or cut bait. 

 

Bluefish:

If you're looking for a quick fishing trip or something to do with the kids on the beach, head to the sand, grab your cut bait and get to casting. Bluefish run in huge schools and are extremely aggressive.

 
What to Add to Your Fishing Packing List
A good angler is a prepared one. There's nothing worse than getting to the perfect fishing destination, only to find that you've forgotten a few important items. And, depending on the time of year you're heading out to cast off around the Southport area, there may be a few extras that you'll definitely need to pack. 
Here are some basic must-haves to add to your fishing gear before heading out:
Your

valid fishing license

for adults ages 16 or older – in this area, you will need to obtain a Coastal Recreational Fishing License (and also take time to get familiar with the local fishing regulations)

A fishing rod with a reel and fishing line or fly fishing setup.

7' Medium to Medium heavy rod with 2500 to 4000 size

reel

will work perfect. We recommend running 30 to 40lb braid on this set up. 

Sinkers

(pyramid or egg)

 

¼ oz to ½ oz jigheads

 

Mono or Flourocarbon leader (20 to 40lb)

 

Hooks – You'll want c

ircle hooks or live bait hooks, and 1/0 to 4/0 depending on the species you are targeting

Live bait (the go-to live bait for this

particular area

includes mullet,

mud minnows, greenbacks

,

mud crabs, fiddler crabs,

croakers, and

pinfish)

You can also u

se swimbaits, casting jigs, spoons

e

t

c

, but be sure to select the right kind for the species of fish

you're

hoping to hook)

 

Needle nose pliers with cutters to cut the fishing line and help unhook your catches

Weather protection wearable gear (a sun hat, sunglasses, warmer jacket for when the sun sets, etc.)

Snacks for the humans

First aid kit (better safe than sorry!)

Extra Braided line in case a human gets hooked. For more information on the Braid Trick, watch this video.
Top Tips for Fishing in Historic Southport
Know the Rules
The rules of the water will vary from place to place, so it's crucial to familiarize yourself with the local jurisdiction's instructions before doing anything else. 
Because Southport's location is unique in that it offers easy access to the ICW and the Atlantic Ocean as well as the Cape Fear River, it's crucial that you understand what rules will apply to you as you fish either inshore or offshore — or both! This can include the types or size of fish you're allowed to catch, the seasons that are catch-and-release versus keep, areas that are closed during certain parts of the year, etc.
Know Where to Go
There's a place for every angler all around the Cape Fear River, no matter your experience level or fishing preference. Here are some great areas to check out around the quaint and historic Southport area:
Oak Island Pier:

This pier stands 27 feet high, and 880 feet long, with 30 King fishing stations. It is open every day of the year, 

Carolina Beach State Park:

Here you can choose to fish from the riverbank, from the fishing dock, or from your boat after it's been launched at the marina. 

Brown's Landing

: Located on the mainland side of the ICW near Holden Beach, this area is known for some good fishing when there's a steady, moving tide. 

Fort Fisher State Recreation Area

Frying Pan Shoals: A shifting area of shoals formed by silt from the Cape Fear River, this area is 28 miles long and gets its name from its frying pan-esque shape.

(Make sure you have the right boat and gear to go here) 

Snow's Cut Park:

With a wide array of saltwater species converging in this area, it's no wonder so many avid anglers come to this particular location. 

Southport Fishing Pier & Waterfront:

If you're looking for an easy access point to find flounder, then the downtown Southport waterfront and central pier are the perfect place to start. 

Crystal Pier (Wrightsville Beach)
Find a Marina
Unless you happen to know a special, secret spot along the river, you're going to want to get acclimated with the best marinas in the area. Did you know that Morningstar Marinas has a Southport location that is conveniently located right on the Intracoastal Waterway (ICW), near the Cape Fear River? Plus, it's within walking distance to downtown Southport!
This Morningstar Marinas' location makes it easy to cast off in some of the best fishing hotspots in the area!
→ Morningstar Marinas Tip: Check out this interactive fishing map to see what's available in your area currently!
Visit us at the Morningstar Marinas Southport Location
Located right on the Intracoastal Waterway at the Cape Fear River, Morningstar Marina's Southport location is the ultimate fisherman's dream destination. Whether you're looking to stop by to visit nearby historic Southport, need overnight dockage for a larger vessel, or just want to rent a boat for the day to cast a line in the area, we have what you need.
At Morningstar Marinas, we've created a community of boaters who come together to enjoy life on the water. With locations up and down the Southeast and mid-Atlantic areas, our full-service marinas and seasoned staff are ready to help you make the most out of your next fishing adventure. 
Come and enjoy the best blue water access in the area, as well as our on-site mechanic services, fuel, bait & tackle, and fish cleaning stations. Morningstar Marinas is more than just a place to stop in to refuel your boat—it's a place to cast off and make new memories in the process!