2022 Gift Guide for the Boating Enthusiast in Your Life
Published: December 16, 2021
Updated: October 26, 2022
If you can believe it, Christmas is just a few short weeks away…which means there's no time like the present to get started on whittling away at your Christmas shopping list! When it comes to that avid boater in your life, you might be drawing a blank as to what they need to make all their captain dreams come true. Don't worry! We've created the perfect gift guide for this upcoming holiday season.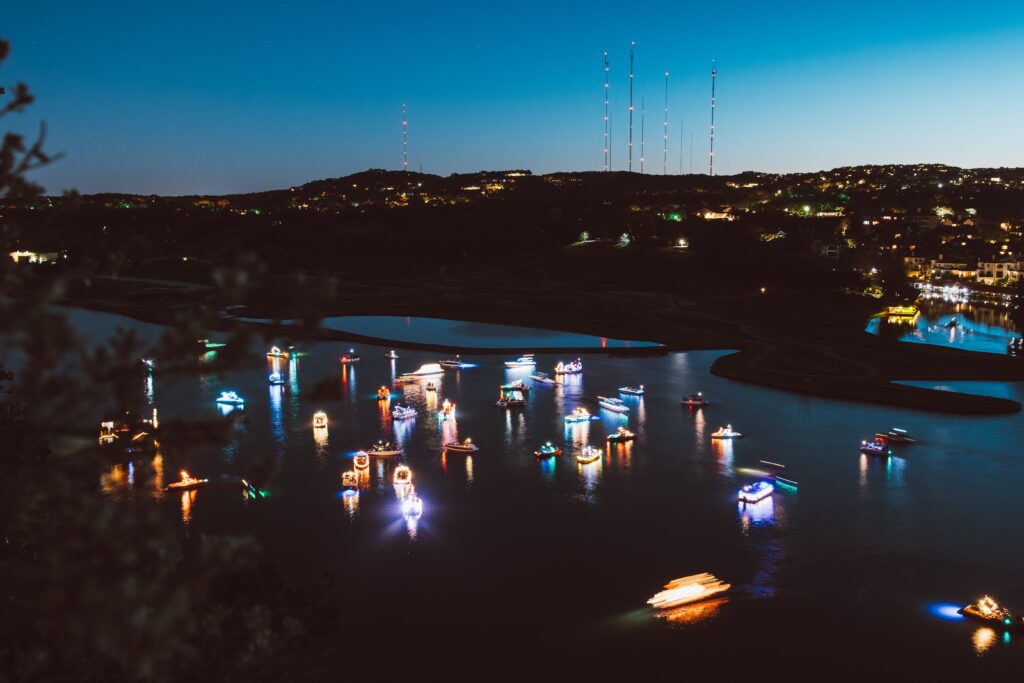 Practical Gifts
→ Portable Charging Station: Being extra prepared for anything that comes your way is especially important for boaters who may find themselves stranded out on the water for longer than they initially intended. That's why a practical gift like a waterproof, solar powered portable charging station is the perfect solution!
→ Loadout Bucket: Who wants to have to take a million trips to unload the boat after a long day out in the sun? With this handy Yeti Loadout Bucket, you'll be able to take a bunch of things back with you all in one fell swoop.
→ Dry Bags: Just because you're floating out on the water doesn't mean you won't have valuables or clothing that you want to keep dry under any condition. These waterproof dry bags will do just the trick.
→ Easy-To-Use Hitch: Hooking up your boat trailer can be a giant pain — but thanks to this handy adjusting quick install hitch, your boating buddy can single-handedly hook up the trailer with ease and a whole lot less frustration!
→ 6-in-1 Boating Tool: Can't forget those stocking stuffers, now can we? This DeckMate 6-in-1 boating tool is the perfect fit. With two universal deck plate keys, a boat shackle key, a flathead screwdriver, and a ¼ hex head driver all in one, you won't be scrambling for your tools anytime soon. Plus, the other end has a handy bottle opener for when it's time to crack a cold one!
→ The Perfect Boating Knife: Another great tool to have onboard is this Morakniv Floating Fixed Blade Knife, also known as the "perfect boating knife". It actually floats, all thanks to its cork handle, and the core is made up of high-visibility orange polymer so you'll see it if it somehow lands in the water.
→ DockGrip: Not everything you buy for your boating bud has to necessarily head out on the boat. This helpful DockGrip is here to help passengers get on and off the boat much easier. It's the perfect helping hand for all ages!

Techy Gifts
→ Digital Fish Finder: Looking for something high-tech and useful for the fisherman (or woman) in your family? It's the perfect time to invest in a digital fish finder. There are a ton of great options available on the market — now the hard part is deciding which one will work best for your friend!
→ Bluetooth Speaker: Another fun techy gift to consider this year is a waterproof bluetooth speaker for those chill boat days. Depending on your budget and specifications, you should be able to find the perfect speaker to break out when the weather warms up.
DIY & Fun Inspired Gifts 
→ Boat Detailing Kit: We all know someone who absolutely loves rolling up their sleeves and getting their hands dirty — especially if it means walking away with a squeaky clean, shining hull at the end of the day. How about this most complete boat detailing kit for the DIYer in your life? If your friend isn't a DIYer, don't worry, Morningstar can take care of that, too!
→ Personalized Gifts: While it might not be the most practical gift you could give, who doesn't love a personalized gift? These custom telescopes and personalized compasses will help any boat captain to feel like a pirate, both on and off the water.
→ Custom Painting: Is someone already missing their watercraft during the off-season? What about surprising them with a custom painting portrait of their boat to hang in their home? This will remind them that warmer days are just ahead, and they'll soon be back out on the water where they belong!
Thrill Seeker Gifts
→ Underwater Scooters: What do you get the boat-loving thrill seeker who appears to already have everything they could possibly need? What about one of these underwater scooters? Even if you're not a diver, there's still so much you can do to explore what's down below with one of these in your hands! Plus, they're compact and easy to store aboard your boat.
→ Water Floats: These water floats are perfect for an afternoon hanging out at the sandbar or cruising around the lake. Plus, they are easy to roll up and store and they convert into the perfect lounge in any body of water — even a pool!
Safety-Inspired Gifts
→ There's no better gift than giving peace of mind, which is why a BoatUS Unlimited Towing Membership is the perfect solution. Whether you're looking for a freshwater or saltwater towing membership, BoatUS has options in a variety of areas.
→ Wearable Locator Beacon: Can you even put a price tag on safety? The answer to this question is a resounding "no", which is why we're including an ACR Wearable Personal Locator Beacon on the list of gifts for boaters. Wherever you are, at sea or on land, this powerful personal locator beacon can alert global emergency services all with just the push of a button.
→ VFH Radio: Doesn't matter if your buddy has a cell phone they bring with them when they go boating, all boats should be outfitted with a handheld VHF radio in case of emergency. This rugged option comes with a rechargeable battery and is also waterproof.
→ First Aid Kit: You can never be too safe with this Tactical First Aid Kit, complete with more than 250 pieces of first aid supplies, survival items, and an emergency kit. It even includes tactical survival tools with convenient, portable items for on-the-go situations.
Happy Holidays from Morningstar Marinas 
At Morningstar Marinas, we pride ourselves on the community of boaters we've created across the Southeast's top boating destinations. Our facilities and services paired with our friendly and knowledgeable team members will help you quickly and efficiently get out there on the water, so you can start having fun! Morningstar Marinas is more than just a place to store your boat — we're here to offer you an unforgettable boating experience, everytime.