Boat Camping Tips for Sleeping Aboard Your Watercraft
Summer is finally here – and the season for boating and camping has finally begun! And for true outdoor enthusiasts, these warmer days also indicate it's time to get the gear out in preparation for all of those exciting overnight boat camping activities. Summer is the nicest time to venture out on an overnight journey, with warm weather and comfortable nights most likely out of any season.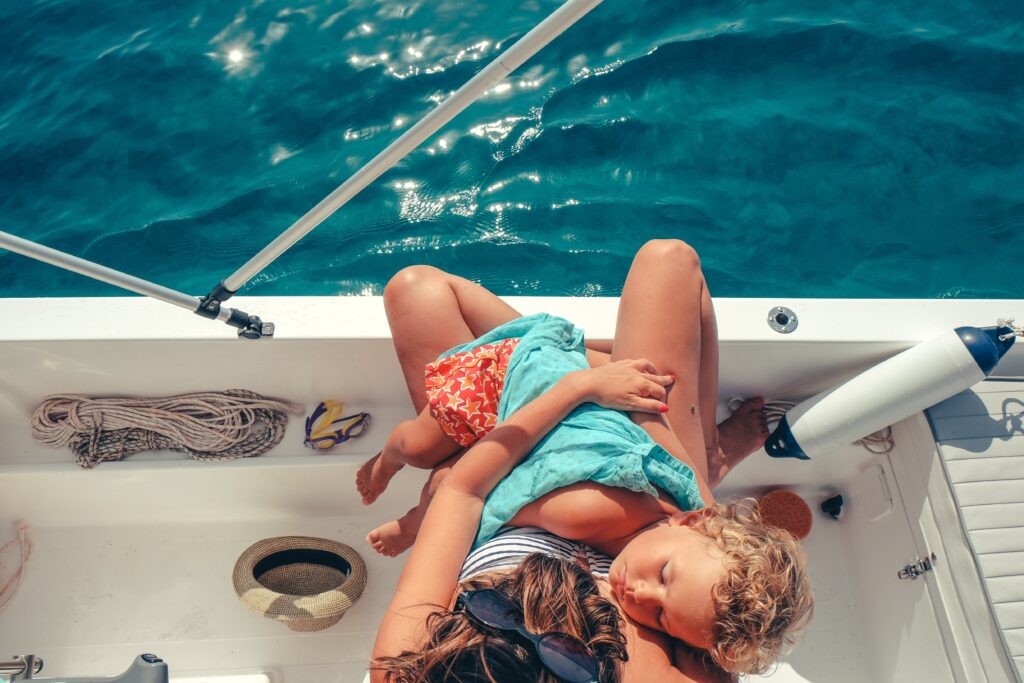 The term "boat camping" can mean something different for everyone, depending on the type of watercraft you own and the sites you're looking to camp near. Some destinations are only accessible via a boat, offering campers the opportunity to set up tent in a quiet, uninterrupted area. 
For others, the idea is to sleep aboard your vessel overnight, while anchored in a safe location near shore. For sleeping, a dock will always be the safest way to go, however a little cove out of the way of the current or tying off a tree can provide the extra support needed for an overnight excursion. 
While sleeping aboard your vessel can be a lot of fun, there are some important things you can do to prepare ahead of time so you can focus on enjoying your overnight excursion safely. 
Preparation is Key
Just like any boating excursion, planning and preparation are very important. Much like you'd select a campground to head to ahead of time, you'll want to research the right anchorage for your boat well in advance. 
You'll also need to plan out your packing list and meals ahead of time to ensure you have all the right supplies once you've set off. Are you staying onboard for multiple nights? If so, what's your plan for safely storing perishables or cold items? Will you need to do a restock trip part-way through your stay? Plan a list of what you'll need to avoid forgetting anything in the moment. 
Safety First
Don't forget to pack safety gear and other navigational tools — regardless of how comfortable you are with your route or familiarity with the area, these resources are imperative to you and your passengers' safety. 
One of the most important pieces of safety equipment when staying overnight onboard is your anchor. You need one that is sized well in comparison with your boat's overall size. You'll also want to spend an afternoon testing the anchor to feel confident that it will hold through the night. 
You'll also want to conduct a total boat safety inspection before heading out. Are your carbon monoxide detectors in good working order? Does your bilge alarm work? Do you have a marine radio in case of an emergency? Each of these elements will help to keep you safe while you stay the night aboard your vessel. 
Potty Breaks, Anyone?
If your boat doesn't have a bathroom onboard, boat camping can be slightly more challenging for everyone. If you can, consider docking near state parks or public beaches where there are public restrooms available, and become familiar with the hours they're available to use. 
Establish a Water Source
Much like bathroom facilities, many families forget to figure out where their freshwater supply will come from. Unless you're camping out in a marina with access to amenities and real facilities, it will be beneficial for you to pack gallons of drinkable water just in case. Be sure to pack enough to compensate for the number of days you will be on the water. 
Check the Weather
No matter how well prepared you might be, nothing can prepare you for bad weather. Be careful to watch any storms that may move in overnight, and consider rescheduling an overnight trip if it looks like the wind is going to pick up while you're out. Not only will bad weather ruin your plans of enjoying your boat under the stars, but it can pose serious safety risks. 
Pack an Extra Layer
Even if it felt as though your skin would melt off from the heat during daylight hours, temperatures can dramatically drop once the sun has set. It's always a good idea to bring a few extra layers with you, as the temperature coming off the water can be much cooler than what you'd find if you were camping inland. When in doubt, you'd rather have too many layers to keep warm than not enough!
Bring the Essentials
Make sure you've packed essentials like sunscreen and bug spray to keep the UV rays and pesky mosquitos at bay! Other helpful items you may not have considered bringing "just in case" include:
First aid kit

Basic repair tools or multitool

Whistle and flares for emergencies

Flashlights

Extra batteries

Dry bag

Trash bags

Tarp

Games

Rain jacket

Hat for shade

Extra toiletries

Solar charger

Biodegradable toilet paper

Wet wipes

Towels

Reusable water bottle

Firestarter or lighter

Cooler
Setting Up for the Night
If you're inexperienced with boat camping, you may want to practice setting up for the night ahead of sunset. If you can, practice at the location you'll be anchoring and sleeping at, or at least familiarize yourself with the area so you can see how your boat reacts to the area. Practice anchoring, docking, and tying off while it's still daylight to avoid any issues coming up when doing so in the dark. If you're in an untenable anchorage, you won't be sleeping very well. 
Once you've dropped the anchor on the night of your camping excursion, maintain a manual anchor watch for a set period of time to make sure it was set correctly and holding up over time. Use your GPS to make sure the boat has not drifted during the first hour or two of the anchor being set. 
As with all things, practice makes perfect. With the right preparation ahead of time, you and your passengers can enjoy a great night out under the stars!
When in Doubt, Dock at Morningstar Marinas
At Morningstar Marinas, we pride ourselves on the community of boaters we've created across the Southeast's top boating destinations. Our facilities and services paired with our friendly and knowledgeable team members will help you quickly and efficiently get out there on the water, so you can start having fun! Morningstar Marinas is more than just a place to store your boat — we're your home away from home.