Here, Fishy Fishy: Getting the Most Out of Your Boat this Fall
"Autumn carries more gold in its pocket than all the other seasons." – Jim Bishop
Do you feel that change in the air yet? That subtle shift in the wind, the changing colors of the leaves that start at the tops of the trees and then spread to the rest of its branches? Or maybe the shift to the cooler seasons is more pronounced, like the back-to-school signs and Halloween decor front and center at every store you walk into these days. 
For many, the move into fall is a bittersweet change, particularly for those who love long days out on the water. But don't be sad that summer is slowly fading — fall is still the perfect time of year to use your boat in a variety of ways!
While summer is known for its share of sun, fall is where you really get to see nature's beauty at its finest. Every day you go out, you'll likely see something a little different every time. From the type of wildlife that starts to come out when the air is cooler to the incredible rainbow of autumn leaves, everything looks that much more inspiring reflected off the water's edge.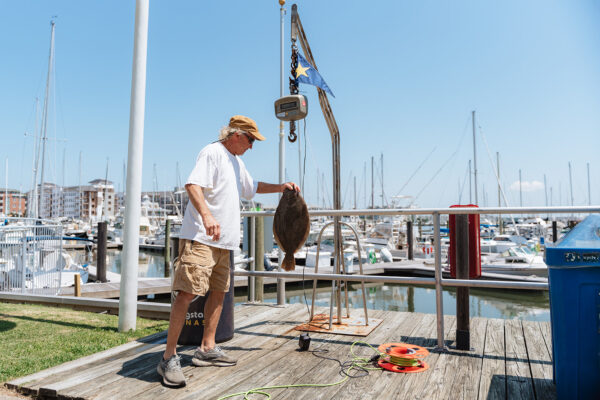 Try Fall Fishing at its Finest
But those new sights and sounds aren't the only fun change that comes with the fall season. Now that summer's finally faded and kids are headed back to school, the water will naturally be more quiet and secluded — which is exactly what you want if you hope to get some fish to bite!
Fall is undoubtedly one of the best seasons to go fishing for more reasons than one. Beyond a more secluded and quieter setting that is sure to attract more fish, autumn is also known to be a fishing haven along the edges of rivers, lakes, or bays because these schools need to feed before the winter season finally rolls in. 
There are a lot of fish that will still be in-season during the fall, but depending on where you're casting off, here's what you can expect to find in a variety of waters:
Walleye –

in fact, these are known to be easier to fish in the fall than any other time of year as they try to bulk-up for winter!

Pike

Perch

Bass

Trout
→ Morningstar Marinas Tip: Curious about what types of lures are going to work best during the autumn months? Here are four lures to add to your tacklebox:
Big Topwaters

– the bigger the better in fall, and this type of lure makes a lot of noise and appears to be a big meal for fall bass. 

Shallow-Running Crankbait

– shallow runners are best for shallow water and woody-covered areas.
Deep Running Crankbait

– go a little deeper with a deep running crankbait that is perfect for teasing fish out of rock piles.

Jig

– low water levels during the fall make the jig an easy option for crawling over the rocky bottom of the lake during the fall. 
Just like during any other season, there are some things you'll need to plan for and pack when embarking on your fall fishing excursion. Here are a few things to consider before you head out, that can make your last few months out on the water even better than you could've imagined. 
Always Dress for Success
Regardless of where you intend to push off, the weather has changed since those sweltering summer days, and will continue to change throughout the day as the wind shifts or the sun slips behind those extra clouds. 
It's especially colder in the mornings and evenings when the sun is absent for longer and longer each day until we reach those pesky winter months. You and your passengers will need to dress accordingly, and always pack some extra layers with you just in case you're somehow delayed out longer than you originally planned. 
Don't be afraid to keep some blankets and jackets aboard your vessel too — when in doubt, you'd rather have more things to keep everyone warm and comfortable!
Don't Dock in the Dark 
Like we mentioned earlier, days are notoriously growing shorter as we move towards the winter season. That means you'll need to be extra prepared for the changes in lighting with a headlamp or flashlight onboard. Also check to make sure all of your lights are functional and working properly, now that the days are shorter.
You never want to navigate out of or back to the dock without any light to guide your way, regardless of how much of a pro you might be! Plus, don't forget to include extra batteries on board — you never know when you're going to need them. 
Weathering the Changing Season
Like the rest of the year, the fall season can be unpredictable with its ever-changing weather patterns. Don't head out for the day if it looks like the water is going to be especially rough or the wind is going to be a pain. And even while you're already out on the water, it's crucial that you keep an eye on the forecast. 
Never be afraid to call it a day early on if things look like they could potentially get a little dark, windy, or dangerous out there. It's never worth risking a few more hours of fishing if it means putting yourself or others in danger. 
Know When to Turn in for the Winter
Although it might be tempting to push the limits with your fishing time into the late fall or early winter (particularly if it's a mild winter!), you never want to wait until it's too late to winterize and prepare your boat for the off-season. 
One thing to note – if you intend to keep your boat out over the winter, here are a few cold weather boating tips you're going to want to know!
It's very important to spend some time cleaning, maintaining, and properly storing your boat, particularly if you live in an area that can expect snow at some point. Clear your deck of all those once-pretty leaves and foliage to avoid mold and mildew from growing, thoroughly clean the inside and outside of your vessel, and inspect the whole thing from top to bottom for new dents, dings, cracks, and scratches that need to be addressed before next boating season. 
When you keep your boat stored at a marina like Morningstar Marinas, you can expect to find turnkey service solutions so you can instead focus on enjoying more time out on the water and less time worrying about the cleanliness and maintenance of your vessel. Morningstar Marinas can clean, maintain, and prep your boat for the winter season, particularly if you have an inboard or outboard that needs to be winterized. Not only is the fall the perfect time to get your boat prepped for the winter, but it's also the perfect time to schedule those annual services so your boat is all ready to go when the spring rolls around!
Schedule any routine or preventative maintenance with your trusted boat mechanic, and talk to your marina about what storage options they have available over the coming months. 
Morningstar Marinas Tip → Check out this blog to see the top five things you need to consider before selecting the right marina to call home, plus our handy guide to properly winterizing your boat ahead of the cold season!
Ready to Call Morningstar Marinas' Home?
At Morningstar Marinas, we pride ourselves on the community of boaters we've created across the Southeast's top boating destinations. Our facilities and services paired with our friendly and knowledgeable team members will help you quickly and efficiently get out there on the water, so you can start having fun! Morningstar Marinas is more than just a place to store your boat — we're your home away from home.