Nine Exciting Things to Do Around Cornelius, North Carolina
Established in 1905 as a mill and farm community, the town of Cornelius stretches around the largest man-made body of freshwater in North Carolina — known as  Lake Norman — amounting to a vast 70 miles of shoreline. As the second youngest town out of Mecklenburg County's six incorporated towns, Cornelius is well known today for its vibrant community, lively lakefront recreational opportunities, and championship golf course. 
This suburb is located just 20 miles outside of the city of Charlotte, North Carolina, and draws people from all around the world to its luxurious lakeshore during every season. In fact, celebrities like Dale Earnhardt Jr., Christian McCaffrey, and Michael Jordan have homes right in the Lake Norman area. 
If you're looking to spend a few hours out on the waters of Lake Norman or exploring the lakeshore or downtown areas, here are nine must-do things to add to your list for the perfect day in Cornelius, N.C.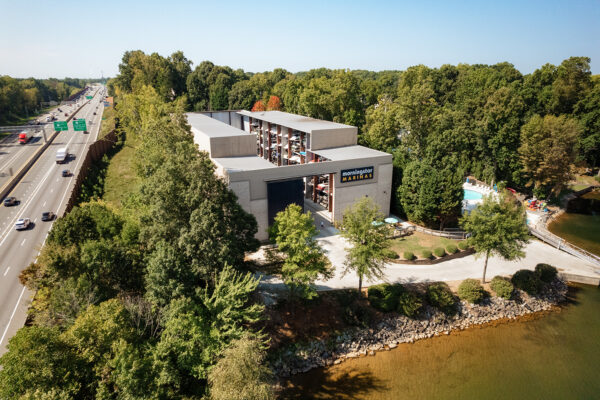 This 46-acre park has everything you might need for a family-friendly day enjoying the outdoors: beach access, boat launches, a playground, picnic area, volley court, walking trails, a fishing pier, and even a fenced-off dog park! There is a fee for entering the park, so be sure to check out their up-to-date beach fees ahead of time. 
Housed in a restored cotton mill, this antique mall takes you back in time and showcases a massive collection of antiques and collectables right in downtown Cornelius. There's more than 11,000 square feet of treasure to explore — but don't worry —  even on the hottest day of the summer, there's some refreshing air conditioning to enjoy, too!
Stretch Your Legs Along the Emerald Necklace
Greenway
Stop by the Emerald Necklace, a 13-mile greenway network of diverse trails of varying distances that connect all around the Cornelius area. Here are a few to choose from: 
Antiquity Greenway (0.6 miles)

Bailey Road Park Trails (3.5 miles)

Caldwell Station Creek (2.6 miles)

Jetton Mini Trail (0.4 miles)

Jetton Park Trail (1.5 miles)

Legion Park Trail (0.5 miles)

McDowell Creek Greenway (1.5 miles)

McDowell Creek Greenway Phase II (1.6 miles)

Plum Creek Greenway (0.6 miles)

Robbins Park Trails (4.7 miles)

Torrence Chapel Park Trails (0.6 miles)

Walter Henderson Trails (0.3 miles)
Check out
Jetton Park
for the Afternoon
Looking for a view of Lake Norman without the crowds that typically come with Ramsey Creek Park? Check out Jetton Park, a 104-acre park that provides tons of trails, small beach areas, tennis courts, a playground, and picnic shelters. One thing to note: there's no swimming allowed on these beaches, but it is a much quieter experience and doesn't require any fees for entrance. 
This dog-friendly establishment focuses on your beloved pup first, offering a unique experience for both pet and owner. There is a large, open area for dogs to run free with their new friends, chock full of grassy areas, free water, and lots of new toys and activities. Head over to the bar to grab a drink for yourself, including a full cocktail menu and 20 beers on tap. Plus, Lucky Dog also offers a variety of pet-care services such as boarding, daycare, and grooming!
If you're visiting the area on a particularly hot or rainy day, it might be time to head indoors to try a new adventure. The large-scale trampoline park has so much fun packed in one place, there's definitely something for everyone! Check out the adventure hub, the dropzone, the tumble track, bumper cars, a virtual reality studio, the ropes course, the climbing walls, and so much more! 
Grab Some Grub on the Lake
There is no shortage of delicious eateries all across the area, but if you're looking for dinner with a view, here are some special restaurants to consider:
Plan Your Very Own Brewery & Bottle Shop Tour
Every beer enthusiast can appreciate stopping by a new brewery while visiting a new town — and Cornelius, North Carolina has plenty of exciting libations to choose from! Be sure to add a few of these fun stops to your itinerary:
Visit Morningstar Marina's Crown Harbor Location
Morningstar Marina's Crown Harbor location is the closest marina to I-77, making it the premier marina on the lake with easy accessibility via car. If you're looking to explore Lake Norman, we offer the perfect opportunity to do so via a daily boat rental! It only takes about fifteen minutes to get you and your family to some of the most incredible destinations in the Lake Norman area. 
Our team of dedicated boating experts makes it as easy as possible for you to get out on the water, with all the necessities you might need right at our marina. Rental boats include all the safety and navigational equipment you will need for your trip, such as personal floatation devices, fire extinguishers, GPS tracking units, and more. And our team is here to help and ensure you're comfortable operating the boat and navigating the lake so you can have the best experience possible. 
At Morningstar Marinas, we pride ourselves on the community of boaters we've created across the Southeast's top boating destinations. Our facilities and services paired with our friendly and knowledgeable team members will help you quickly and efficiently get out there on the water, so you can start having fun! Morningstar Marinas is more than just a place to store your boat — we're here to offer you an unforgettable boating experience, every time.