Here are Five of the Best Vacation Spots to Visit Along the Intracoastal Waterway
As autumn approaches, many boat enthusiasts may worry that their time enjoying the sunshine and open water will be coming to a close shortly. But for others, excitement builds as October and November creeps closer every day. Once hurricane season has finally passed, many transient adventurers will load up their vessels and aim south down the Intracoastal Waterway. 
The Intracoastal Waterway (ICW) is a 3,000-mile chain of channels that are linked together, providing an inland passage along the Atlantic and Gulf of Mexico coasts. It runs from Massachusetts down along the Atlantic Seaboard and is made up of a variety of natural inlets, saltwater rivers, bays, and sounds, as well as artificial canals.
The Intracoastal Waterway is the perfect way to sail up and down the coast without worrying about traversing across the open sea! As you plan your next transient vacation along the East Coast, there are five incredible destinations to consider adding to your route.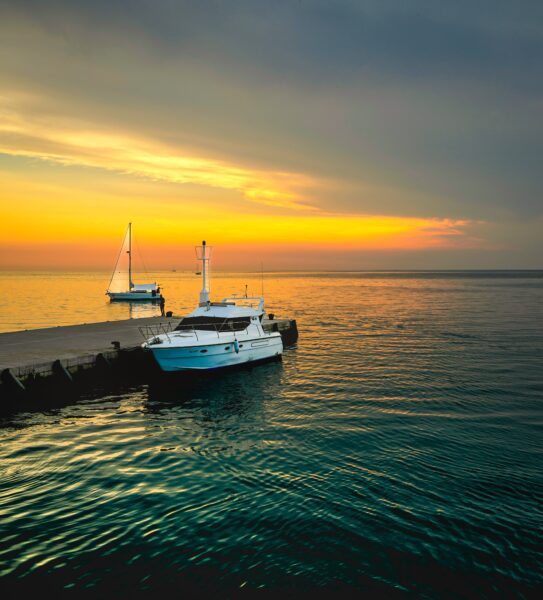 Gwynn's Island, VA
Gwynn's Island is the perfect way to kick off your ICW adventure. Escape the hustle and bustle of city life, and enjoy the tranquil atmosphere that this edge of the Chesapeake Bay has to offer. Plus, if you're hoping to drop a line while aboard, there are plenty of local fishing spots to choose from. 
Must-See Attractions:
Grab a bite to eat at the beloved landmark the locals like to frequent, Hole In The Wall. 

Visit the Gwynn's Island Museum on the weekends and learn all about the island's rich history.

Explore the island's bountiful nature — you might even get lucky and spot a bottleneck dolphin or bald eagle!
Visit Morningstar Marinas Gwynn's Island
Explore Gwynn's Island when you stay with Morningstar Marinas! You can easily access our marina from the Chesapeake Bay, and get a quick boat check-up from our onsite, expert mechanic before you head down the coast. Learn more about the amenities we offer to make you as comfortable as possible!
Norfolk, VA
As one of the most prosperous cities in Virginia in the 1770s, Norfolk was hailed as a major shipbuilding center and important shipping export for a variety of goods from the Carolinas to Europe and beyond. Today, the city is home to an array of historical attractions, unique shops, and mouth-watering restaurant choices. It's a must if you're traveling down the ICW!
Must-See Attractions:
Head to the heart of downtown to explore Selden Market and shop 'til you drop.

Stop to smell the roses when you spend an afternoon exploring the Norfolk Botanical Gardens. 

Take in the view when you visit Grain, a rooftop beer garden that boasts live musical performances, fire pits, and regular happy hour specials.
Visit Morningstar Marinas Little Creek
Located right off the open water near Norfolk, our facilities are easy to access from the Chesapeake Bay and are only a short boat ride away from the James River and the Atlantic Ocean. 
See our state-of-the-art, storm-resistant Bellingham dock system for yourself, or stop in to fuel up — for either your boat or yourself! We're proud to offer transportation options for our transient guests who may want to explore Norfolk while they're nearby, plus we're within walking distance to quite a few points of interest in the area.
Southport, NC
Just thirty miles southeast of Wilmington, sits picturesque Southport, North Carolina. Most famous for its popularity as a filming destination for TV and movies (think Dawson's Creek, Safe Haven, A Walk to Remember), it's also home to historical monuments, eclectic boutiques, and savory dining options.  
Must-See Attractions:
If you're a fan of author Nicholas Sparks, be sure to tour all 11 Safe Haven filming locations.

Stroll around the downtown area and check out the array of antiquities, art, and nautical treasures found around every corner.

Raise a glass at the Silver Coast Winery & Taproom.
Visit Morningstar Marinas Southport
Located at marker 2A on the ICW, our marina is within walking distance of downtown Southport. If you plan to stay with us overnight, you will enjoy our brand-new docks, complimentary WiFi, and a fully-stocked ship store to gather everything you need before you continue on down the coast!
St. Simons Island, GA
Known for being the largest barrier island in the Golden Isles, St. Simons Island holds a fascinating history, unique shopping experience, and expert golf course selection. 
Must-See Attractions:
Head to nearby Pier Village to explore more than 50 different shops and eateries.

Explore oceanfront Neptune Park and the St. Simons Island Lighthouse Museum to learn more about the island. 

Take a swing at Retreat Golf Course or Seaside Golf Course – both can be a rewarding challenge for even the most experienced golfer!
Visit Morningstar Marinas Golden Isles
Stop at ICW marker 675 to visit our St. Simons Island-based marina that offers no vertical obstructions and deep waters, making it the perfect stop for larger vessels and sailboats. With a call-ahead concierge service, a courtesy car for inland visits, and a complimentary fresh-water rinse for every boat that docks with us, you won't want to miss this stop before you continue heading up or down the ICW!
Jacksonville, FL
Home to more than 1,110 miles of interior shorelines, Jacksonville is a haven for both freshwater and saltwater anglers of all experience levels. But beyond its diverse ecosystem, this area has plenty of things to do for the whole family, making it the perfect stop on your ICW adventure. 
Must-See Attractions:
Take a trip to the Jacksonville Zoo and Gardens, one of only seven zoos in the U.S. with an animal wellness team that provides top-tier care for their wide variety of animals. 

Shop around at the St. Johns Town Center, known as the heart of shopping and dining selections throughout the Jacksonville area.

Wander through the Museum of Science and History and learn something new. 
Visit Morningstar Marinas Mayport
Just two miles from the ICW on the St. Johns River sits Morningstar Marinas Mayport location, the ultimate fisherman's dream spot to drop anchor for a day (or two!). Utilize our bait & tackle and fish cleaning areas or ask our friendly and knowledgeable staff about what's biting in the area this time of year. With the best blue water access in the area, this is a place you're going to want to spend some time reeling it all in.