Spend the Perfect Day Exploring Norfolk, Virginia
Home to more than 235,000 residents, the city of Norfolk spans across 66 square miles, with seven of those miles being Chesapeake Bay beachfront and 144 miles-worth of shoreline along a variety of lakes, rivers, and the Bay. With so much water-access, it's no wonder that Norfolk, Virginia, is home to the world's largest naval base, and acts as the North American headquarters for NATO! 
But beyond all of its geographic characteristics, downtown Norfolk has been steadily growing in recent years. Today, there are so many great options for spending an afternoon wandering around the downtown area — or staying out until after dark and catching a show or some delicious cuisine!
If you're headed up or down the Chesapeake Bay via the Intracoastal Waterway (ICW), and looking to make a stop to check out historic downtown Norfolk, VA, be sure to reserve your slip at Morningstar Marina's Little Creek location! We're a short, 20-minute drive from the downtown area, located right across from the naval base.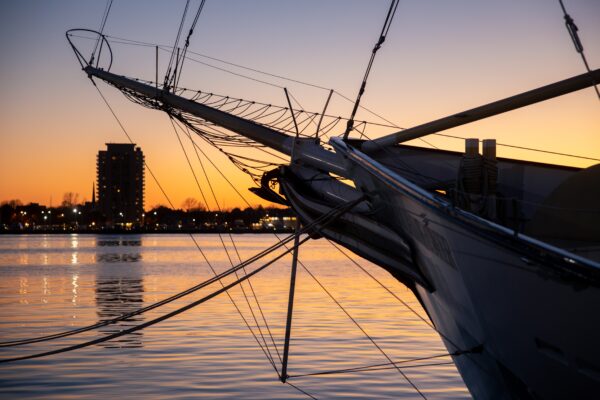 Not sure what to do once you hit land? Here are a variety of activities to fill your day or weekend when you visit the Norfolk area. 
The Perfect Afternoon 
Norfolk Botanical Garden – Connect with nature by visiting the Norfolk Botanical Garden. Just be sure to reserve your ticket in advance!  
Hermitage Museum & Gardens – This nationally recognized art collection spans across 5,000 years, featuring revolving indoor and outdoor exhibits, a visual arts studio, and 12 acres of gardens and grounds to explore. Explore it for free, Tuesday through Sunday, 10AM to 5PM. 
Virginia Zoo – Visit more than 700 animals (that's over 150 different kinds of species!) all in one place when you stop at the Virginia Zoo. Take a tour, stroll through the themed gardens, and find new ways to engage with your environment! 
Chrysler Museum of Art – This interactive space for families has an ever-growing collection of more than 30,000 objects across its fifty galleries. And admission is free! 
MacArthur Memorial – The MacArthur Memorial is both a museum and a research center that is dedicated to presenting and preserving the life and legacy of General Douglas MacArthur. Learn about one of America's greatest and most complex leaders, and the brave men and women who served across three different wars. 
Selden Market – This eclectic and historic hall features a variety of local artisans, chefs, and pop-up shops that are a must-see. 
Spend More Time Near the Water
Nauticus – This maritime discovery center is located right along the waterfront in downtown Norfolk. Berthed at the Nauticus is the Battleship Wisconsin, and together, this experiential learning space helps all ages to learn more about the maritime environment, industry, and the military as a whole. 
Hampton Roads Naval Museum – As one of the ten officially operated U.S. Navy museums that report to the Naval History and Heritage Command, this museum is home to a strong collection of naval artifacts, ship models, and artwork. 
Take Time to Get Educated
Waterways to Freedom, Self-Guided Tour – Learn all about Norfolk's proud participation in the Underground Railroad during the early 19th Century, helping thousands to escape from the south to freedom in the northern U.S. and Canada. 
Martin Luther King Monument – Stop by this 83-foot granite monument that acts as a long-standing tribute to both Dr. Martin Luther King Jr. and other civil rights leaders. It's located at the corner of Brambleton Ave and Church Street. 
Armed Forces Memorial – Located in the newly renovated Town Point Park, this memorial is nestled between the Elizabeth River and downtown area. Definitely worth a stop to honor those who sacrificed their lives. 
Hunter House Victorian Museum – Built in 1894 for merchant and banker James Wilson Hunter, today the former home now features an expansive collection of Victorian decorative arts and architecture. 
Cheer at a Sporting Event
There are quite a few sporting events you can attend while in the area. Be sure to add one of these to your list, depending on the season that you're visiting!
Norfolk Tides

Baseball at Harbor Park

Norfolk Admirals

ECHL Professional Hockey Team at Scope Arena

Old Dominion Monarchs Football at the S.B. Ballard Stadium

Old Dominion Basketball at the Chartway Arena 

Norfolk State Spartans Basketball

Norfolk State Spartans Football
Explore the Nightlife
Norfolk Buffet Dinner Cruise – Step aboard the Spirit of Norfolk and experience a dining and dancing experience while taking in the Norfolk Skyline along the Elizabeth River. 
The Wells Theatre – Home to the Virginia Stage Company since 1979, the Wells Theatre is the area's leading professional theatre company, with a variety of shows and performances available all year long. 
Virginia Opera – The Virginia Opera rotates its location to hold performances in Norfolk's Harrison Opera House, the Carpenter Theatre at the Dominion Energy Center (in Richmond), and George Mason University's Center for the Arts (in Fairfax). Be sure to check the schedule to see if you can spend the night at the opera while in town! 
Virginia Symphony Orchestra – Known as the cultural cornerstone for the region's arts community, the Virginia Symphony Orchestra brings world class orchestra to the community. It's a must-see-and-hear experience!
The NorVa – Listen to the latest and greatest music artists (and not just the local celebrities, but big name artists, too!) when you spend the night rocking out at The NorVa! See who's performing while you're in town. 

Visit Morningstar Marinas Little Creek
Located right off the open water near Norfolk, our facilities are easy to access from the Chesapeake Bay and are only a short boat ride away from the James River and the Atlantic Ocean. See our state-of-the-art, storm-resistant Bellingham dock system for yourself, or stop in to fuel up — for either your boat or yourself! We're proud to offer transportation options for our transient guests who may want to explore Norfolk while they're nearby, plus we're within walking distance to quite a few points of interest in the area.