Drop a Line: Your Guide to Deep-Sea Fishing in Jacksonville
Home to more than 1,110 miles of interior shorelines, Jacksonville, Florida, offers lots of convenient water access opportunities and a wide variety of fresh and saltwater fishing spots for locals and visitors to frequent year-round. This area is also home to more than 30 offshore and inshore reefs that attract a very diverse array of species. 
There's no doubt that this northeast area in the Sunshine State is the ultimate destination for adventurous anglers of all experience levels.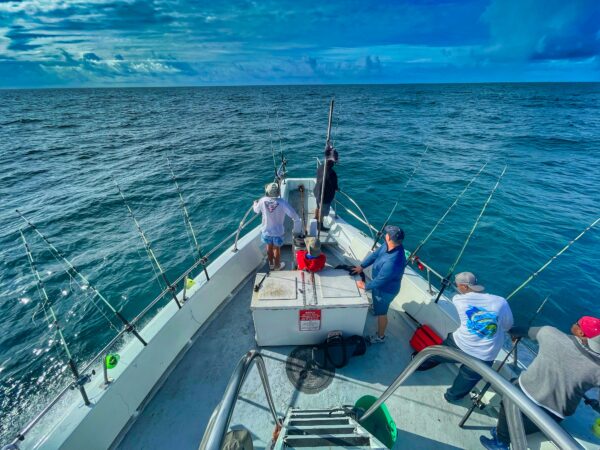 Different Types of Fish You'll Find in the Jacksonville Area
Depending on what type of fish you're looking to hook, there are plenty of options all around the Jacksonville area. Try your hand at landing any variety of these big kahunas:
Mahi Mahi

– One of the more convenient catches, this stubborn fish will still give you a serious workout. 

Marlin

– A longer trip to the Gulf Stream, but worth the time and effort when you hook a Sailfish or Blue or White Marlin. 

Blackfin Tuna

– One of the fastest fish in the ocean. If you manage to find a good school they could make your whole trip — also, they are delicious!

Amberjack

– Jacksonville's offshore reefs are full of these plentiful, hard-fighting fish. 

Red Snapper

– While federal Red Snapper fishing seasons don't last long, these big boys are worth the wait. 
There are so many other options floating around the Atlantic Ocean, including Barracuda, Dolphin, Shark, Bass, King Mackerel, Cobia, Wahoo, Tuna, Grouper, and so much more. 
→ Morningstar Marinas Tip: Check out this interactive fishing map to see what's available in your area currently!
Types of Deep-Sea Fishing
There are two main techniques to know when it comes to deep-sea fishing: trolling & bottom fishing. 
Trolling
You will be trolling if you're going after Billfish, Mahi Mahi, Wahoo, or other fish of this sort. These species will be occupying the upper layers of the open sea, so you'll drop several lines at the back of the boat and cruise around your targeted prey. The bait you've chosen will drag along and entice these pelagic fish to bite. Once they take the bait, it's time to reel them in!
Bottom Fishing
Bottom fishing, also referred to as deep dropping, is when you anchor the boat and cast the line in an area where you can go deep for larger fish that inhabit the offshore reefs. Be prepared for a fight that will be well worth it when the day is done — and some sore arm muscles, to boot!
If you don't have access to a boat already, you will probably need to book a fishing charter. This will allow you to sit back and relax, and see what bites, while someone else mans the wheel. 
Jigging
Jigging for blackfin tuna and amberjack can be another way to quickly catch a great deal of fish. The best way to go about this is to use a shorter (5'6) rod with a 5 or 6000-size reel and a knife jig. Slowly or quickly rip the jig up towards the boat and let it fall back down on the slack line.
Benefits of Booking a Fishing Charter
There are various reasons you may be looking to book a fishing charter. Maybe you're on vacation in the area and don't have access to a boat, or perhaps this is your first time trying your hand at deep-sea fishing and you could use some expert advice. The best way to learn all about Jacksonville's rich aquatic ecosystem is by watching up with a local fishing guide. 
Most charters will come equipped with the proper licenses, fishing equipment, and local guides who possess knowledge about the most lucrative fishing spots in the area. Some even provide light snacks and beverages for your trip, and allow you to enjoy the full experience!
What to Add to Your Deep Sea Fishing Packing List
Depending on whether or not you're utilizing a deep-sea fishing charter, some of the important things you need for a successful day out on the water will already be included. But just in case, here are a few things you should be sure to add to the list to make sure it's an enjoyable experience:
A valid Florida fishing license for adults ages 16 or older (both residents and visitors need to purchase one from the

Florida Fish and Wildlife Commission

)

The proper offshore fishing rod with a reel and fishing line, sinkers, hooks, needle nose pliers & other tools (if not provided by the charter)

Live bait (common types used in the area are eels, shrimp, squid, cigar minnows, ballyhoo, and pilchards for saltwater game fishing)

Weather protection wearable gear (a windbreaker or rain jacket, long sleeve shirt, sunhat, neck gaiter, etc.)

Sunscreen

Lip balm

Hand sanitizer or wet wipes

Snacks and bottled water

Motion sickness preventative

Sunglasses 
Top Tips for Deep Sea Fishing on the Atlantic Ocean
Know the Rules 
Before you drop a line, it's essential that you familiarize yourself with local fishing regulations well in advance. 
First, you will need to obtain a recreational saltwater fishing license.

All organisms must be landed and kept alive, using a continuously circulating live well, aeration, or oxygenation system of the right size to keep the fish in healthy conditions while onboard. 

There is a maximum of 20 organisms per person, per day, with only five of any one species allowed within that limit. 

You can use a hand-held net, drop net, rod, barrier net, or slurp gun while fishing, however, the use of Quinaldine for fish anesthesia is prohibited.  

Be aware of any closed areas and avoid them. 

The sale of recreational-caught marine life is prohibited. 

Know the rules of what can be kept, depending on the size and season of the catch.

Make sure to pay attention to the currents when offshore and how the wind is blowing. Putting the bow of the boat into the wind and going passed the wreck or ledge, then dropping anchor and letting out enough line to position yourself so you are sitting right on top of the ledge you will be fishing.

Always use your compass and/or GPS.  
Know Where to Go
If you're headed out with a fishing charter, they will have an optimum route already planned to show you the best places to cast off in the area. If you're venturing out alone, do some research about the area. Ask local anglers about their favorite spots, and any tips or tricks they're willing to share. 
Here are a few suggestions to get you started:
Southeast 16 & 17

: Three miles of reefs and ledges, with some parts going as deep as 110 feet. 

Elton Bottom

: Just 40 miles southeast of the St. Johns River Inlet, this area is a renowned diverse habitat with natural reefs, ledges, and wrecks.

Peanut Boy's Amberjack Hole
East Lump

: 30 miles east of Mayport, this natural bottom structure rises from the ocean floor. 

Casablanca

: Deep water wreck with great opportunities for both trolling and bottom fishing.

21 Fathom Spot

: This productive fishing spot goes as deep as 120 feet, drawing in some big fish!

Blackmar's Reef

: Five wrecked ships, two planes, and a bunch of fish – what more could you want?

Tournament Reef

: An artificial reef made from a sunken 225' freighter that has something for everyone. 
Find a Marina
Your other option is to know someone with a dock or slip in the Jacksonville area. Did you know that Morningstar Marinas has a marina with easy access to the Atlantic Ocean? That's right: Morningstar Marinas is conveniently located near some of the best fishing opportunities in the area, in Atlantic Beach at the mouth of the St. Johns River!
Morningstar Marinas Mayport
At Morningstar Marinas, we've created a community of boaters who come together to enjoy life on the water. With locations up and down the Southeast and mid-Atlantic areas, our full-service marinas and seasoned staff are ready to help you make the most out of your next deep-sea fishing adventure in Jacksonville. 
With the best blue water access in the area, bait & tackle, fish cleaning stations,  and a full market where you can shop for fresh, local seafood, Morningstar Marinas is more than just a place to stop in to refuel your boat—it's a place to have a care-free, memory-making experience.