What to Grab at the Ship's Store For Your Day on the Water
Picture this: it's a glorious, sunshine-filled morning. You've packed up your car and you're headed to the marina to hop on a boat for the day. All you can think about is how good it's going to feel to kick back and relax on that clear, blue water. In just a few minutes, you're going to be floating on cloud nine…or something like that. 
But wait — did you remember to pack your sunscreen? And did you actually grab that case of water you left by the back door so you wouldn't forget? Don't tell me you forgot sunglasses — your eyes are going to fry out there! But it's too late to turn around now.
Thankfully, many marinas have a ship's store conveniently located on the premises to help you get those last-minute necessities you might need for your day on the water.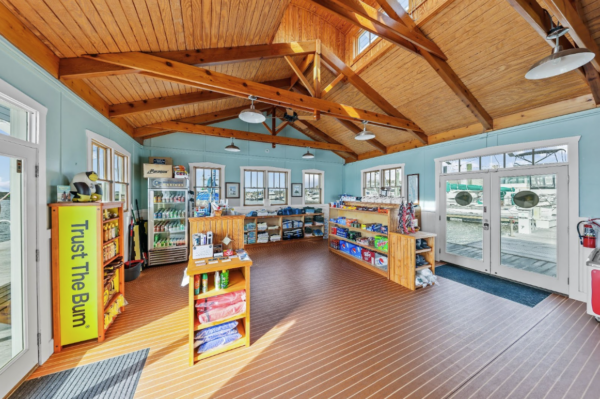 What to Expect at a Ship's Store
A ship's store is a very convenient option for grabbing those last-minute items you'll need before you head to the boat launch, dock, or slip. While the type of things they're going to carry will vary from location to location, most ship's stores will be chock full of all the things you might need to keep your day out on the water fun for the whole family!
Something for the Food Connoisseurs
Craving something salty or something sweet? Need a quick bite to satisfy those hunger pains? The ship's store has something delicious for everyone. 
Grab all the necessities you may need to have a floating picnic lunch, or stock up on a few bags of chips or other snacks just in case a part of your crew starts to get a little hungry later in the day. It's always better to be safe than sorry, especially when it comes to having plenty of tasty treats onboard your vessel when you're far from shore. 
Something for the Party People
Let's not forget to grab something to drink, too! The ship's store often comes stocked with a variety of soft drinks, juices, bottles of water, and sometimes even some fun options such as beer and wine. 
If your family is hoping to splash around the sandbar but doesn't have the right equipment, you can usually some fun water inflatables floating around the ship's store. Don't forget to stock up on sunscreen, too.  
Something for the Fashionistas
Who doesn't want a little bit of marina swag to commemorate a day out on the boat? Many ship's stores will have a unique variety of goods such as hats, shirts, sweatshirts, cold drink koozies, belts, dog collars, sunglasses, etc. 
If you're looking for something brand name, there's a good chance the ship's store will have just what you're seeking. For example, Morningstar Marinas is the authorized retailer for big-name brands like Yeti, Sun Bum, Spyderco, Costa Del Mar, and so much more. 
Something for the Anglers
Maybe you're headed to the water to cast a line and see what's biting — and while you might have just about everything you need to successfully reel in something big, be sure to stop by the ship's store for live bait, more fishing line, or some shiny new bobbers. Top off your tackle box with all the necessary fishing equipment you may have forgotten to grab ahead of time — and ask the staff about what's biting this time of year. 
Something for the Boat Pros
The ship's store will often also carry those not-so-fun (but oh-so-essential!) items you need as a boat owner. 
This can include any type of general boat maintenance items like oil, ropes or lines, batteries, life jackets, boat cleaners, and other emergency items. 
→ Morningstar Marinas Pro Tip: Is this the first time you're prepping your boat for the water this boating season? If so, be sure to follow this comprehensive post-winter maintenance checklist before heading to the boat launch or your slip at the marina. 
Some Things to Do Before Heading to Marina
Even though the ship's store will have most of the things you'll need to enjoy your boat day, there are a few things you'll want to do ahead of time.
First, it's important to take a boat safety course and be up-to-date on all the rules of the water, particularly if you're new to the area you're going to be exploring or just renting a boat for the day.
Some essentials include:
Understanding who has the right of way

Slowing down in wake zones

Identifying navigational aids

Observing deck, boat slip, or marina etiquette 
If you're renting a boat from Morningstar Marinas, you can expect to find all those important items such as the safety gear, first aid kit, signals, flotation and communication devices included with your day rental. 
If you're planning to fish in the area, you must have purchased a fishing license that is valid. You should also familiarize yourself with the local fishing laws, particularly if you're fishing in an area like the St. John's River where both saltwater and freshwater fishing laws apply within this jurisdiction. 
If you store your boat with Morningstar Marinas and need to get it looked over at any point in time, there may be an onsite mechanic who is able to help! As always, the Morningstar Marinas staff is here to help. Don't be afraid to ask questions or put in requests, and take advantage of our facilities, public areas, restaurants, fish cleaning stations — and, of course, the ship's store! 
Visit Morningstar Marinas' Ship's Stores 
At Morningstar Marinas, we pride ourselves on the community of boaters we've created across the Southeast's top boating destinations. Our facilities and services paired with our friendly and knowledgeable team members will help you quickly and efficiently get out there on the water, so you can start having fun! Morningstar Marinas is more than just a place to store your boat — we're your ultimate destination for a fun-filled day out on the water!