Your Guide to Making the Most of Your Rental Boat Day on Peaceful Lake Wylie
Lake Wylie, a 13,400-acre man-made lake, connects the South Carolina and North Carolina borders, offering an easy-to-reach recreational oasis to both states' residents. As the oldest lake in the Catawba River basin, Lake Wylie is a desirable residential and recreational destination for people of all ages.
Nestled between South Point Township, Tega Cay, Rock Hill, and Fort Mill areas, Lake Wylie is only a little over a half-hour drive from Charlotte, North Carolina's largest city. From family activities to fishing to an array of fun eateries, Lake Wylie has something to offer for everyone.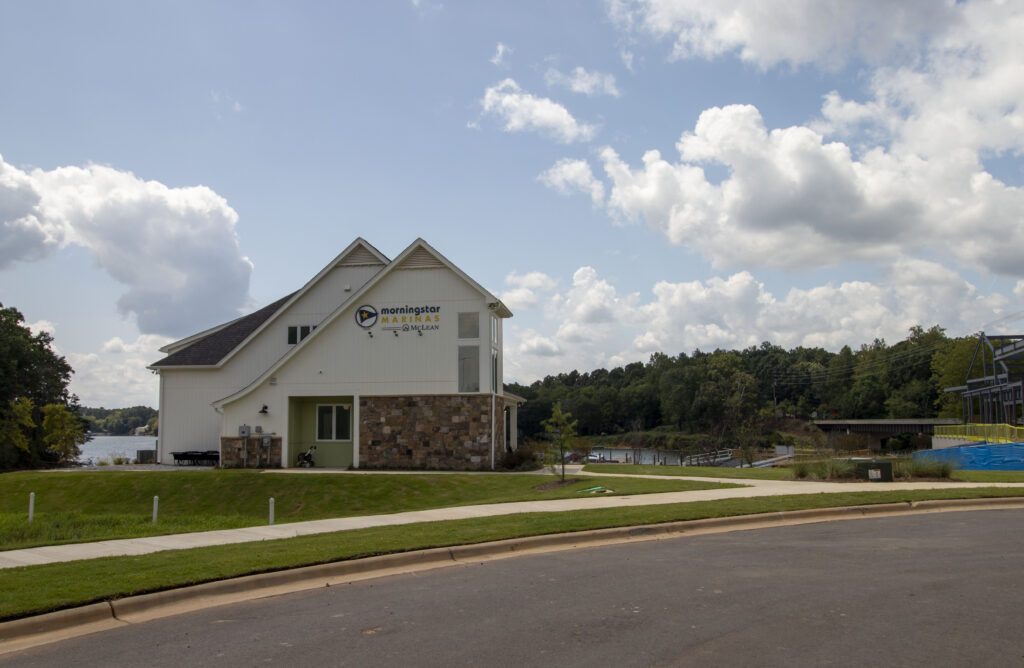 Visiting Morningstar's McLean Premier Marina Location
Situated at the gateway to Gaston County along N.C. 279 at the Seven Oaks Bridge, Morningstar Marinas at McLean offers a convenient and peaceful retreat from the Carolinas and is home to some of the area's best fishing, watersports, and recreational boating opportunities. 
The marina itself is home to 300 dry slips, 35 wet slips, and a fully stocked ship store with all the necessary standard boating supplies a captain could need. It also includes a waterfront event lawn, and soon a brand new restaurant, Drift on Lake Wylie, will be opening its doors in April of 2022. 
But beyond its brand new amenities and convenient location, Morningstar Marinas at McLean is ADA compliant, adhering to Accessibilities Guidelines to ensure that all guests can access the docks and buildings around the marina. 
All of Morningstar Marina's rental boats also include a variety of safety equipment you'll need for your day out on the water, including a fire extinguisher and size-appropriate life jackets for all passengers on board. Each of the boats also includes GPS chart monitors and GPS tracking units for your safety and to be able help with navigating your vessel back to the marina safely at the end of the day. 
The Importance of Boat Safety and Navigation
Since you'll be using a rental boat which isn't quite as familiar as taking out your own boat for the day, it's important to freshen up on those boat safety guidelines. After reviewing where important safety equipment is stored onboard, refreshing your memory on the boat's control system, and getting a lay of the land around the marina, it's time to head out on to Lake Wylie. 
—> Morningstar Marina Tip: Here's a comprehensive Rental Boat Safety video to help you prepare ahead of time. If you're renting a boat from one of our marinas, you will be required to watch this video before captaining a boat.
It's crucial that the captain of the rental boat fully understands how to navigate visuals like flags and buoys since there are no channel markers on Lake Wylie. By taking a constant survey of passing boats, water depth, oncoming traffic, and potential wakes, you can safely steer your rental boat to some fun areas for the day. 
Now for the fun part: what should you do with your time if you're renting a boat for the day?
Restaurants to Visit on Lake Wylie

There are a few easy-to-access restaurants located around Lake Wylie that you may want to visit when the crew gets hungry.
Papa Doc's Shore Club
A seafood lover's paradise, Papa Doc's is a great stop for some delectable cuisine and refreshing beverages. 
J.R. Cash's Grill & Bar
Fresh, scratch-made, American classics are served up at J.R. Cash's — offering a little something for everyone. 
The Galley at Pier 88 Lake Wylie
Although this club does close seasonally, The Galley offers an easy bite to eat right on the lake. 
Drift on Lake Wylie:
Opening in April 2022, you don't want to miss Lake Wylie's newest eatery (plus, it's conveniently located right next to Morningstar Marinas at McLean location!)
Family-Friendly Activities All Over Lake Wylie
Sandbar Retreat
Once you're done eating, it's time to explore the lake! There are two sandbars north of the marina, and one south near Little Allison Creek. Each of these sandbars are great to anchor off of to enjoy some time swimming in the water. 
Fishing Enthusiasts, Rejoice
Lake Wylie is one of the preferred places for fishermen of all skills in the area. It's the perfect, peaceful retreat to enjoy a little sport — plus there are plenty of protected coves to sit in while you wait for something to bite. 
If you're hoping to catch something on your day out on Lake Wylie, Little Allison Creek is a great spot to cast a line out. Expect to catch largemouth bass, blue catfish, and channel catfish — each of these are popular species in Lake Wylie!
—> Morningstar Marinas Tip: Looking for something a little more competitive? Check out the Lake Wylie Tournament Trails for an action-packed fishing tournament opportunity.
Island to Explore
Looking for a fun island to take a trip out to? Try Copperhead Island near McDowell Nature Preserve. Swing by Ebenezer Park or Pitcairn Park to enjoy their recreational swimming areas. 
But if just cruising up and down this long river, going under bridges, and seeing the sights that both North and South Carolina have to offer is what you're looking for, Lake Wylie has all that and more to offer!
Choose a Marina That Feels Like Home
Your number one goal for a day out on the water should always be fun — that's why Morningstar's team is always here to help. From making sure you're comfortable operating the boat and navigating Lake Wylie to having all the snacks and supplies you might need for your day of adventure right in our on-site store, we will do everything possible to make sure you have an unforgettable day. 
At Morningstar Marinas, we pride ourselves on the community of boaters we've created across the Southeast's top boating destinations. Our facilities and services paired with our friendly and knowledgeable team members will help you quickly and efficiently get out there on the water, so you can start having fun! Morningstar Marinas is more than just a place to store your boat — we're here to offer you an unforgettable boating experience, every time.