Five Fun Fall Activities to Enjoy Aboard Your Boat
What exactly indicates to us that the summer has finally come to an end? Is it the return of the school year, with kids headed off to their respective classrooms with shiny new notebooks in hand? Is it the cooler mornings, with the sun a little more delayed in making its presence known to the world? Or is it that certain smell in the air, the one that we can't place other than to say it's the smell of fall? 
Just because the summer season has officially come to a close, it doesn't necessarily mean that it's time to store your boat for the winter…at least not yet! Here are five fun activities to add to your fall boater bucket list as the weather cools and the leaves start to change.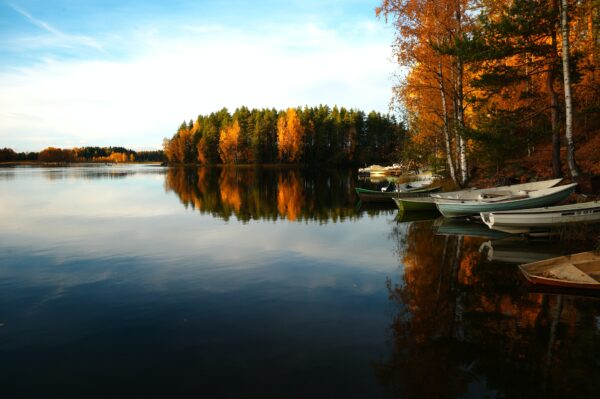 Try Your Hand at "Sterngating"
You may have heard of the term "tailgating", but what about "sterngating" or "sailgating"? Fall signals the start of the beloved football season — both professional and college football takes over the full weekend — and the food and party atmosphere that surrounds these events are more than half the fun. So why not bring it onboard your watercraft for an afternoon of good food and company?
Gather around with your friends in a nearby body of water rather than a parking lot, and tune in to the game to enjoy the full experience! In fact, there are several NFL teams that are prime locations to dock or anchor near the actual stadium with tons of other sterngating enthusiasts. These include:
Miami Dolphins' Hard Rock Stadium

Jacksonville Jaguars' TIAA Bank Field

Pittsburgh Steelers' Heinz Field

Baltimore Ravens' M&T Bank Stadium

Cleveland Browns' FirstEnergy Stadium

Seattle Seahawks' CenturyLink Field

Chicago Bears' Soldier Field

Tennessee Titans' Neyland Stadium
Grab Your Binoculars for Some Bird Watching
"As long as autumn lasts, I shall not have hands, canvas and colors enough to paint the beautiful things I see." – Vincent Van Gogh
While you can typically bird watch just about any time of year, from anywhere, there's something special about this peaceful activity as the weather starts to turn and the days get cooler. That, paired with the fact that migratory birds start to head south to warmer climates, means you might see quite a few that aren't native to your area! Be sure to pack those trusty binoculars, a bird watch guidebook, and a warm beverage or jacket to get the full experience. 
Look at the Stars While Boat Camping
Just because things are cooling down a little and the days are getting shorter, it doesn't mean the fun has to stop. Now is the perfect time to pack everything up and spend a night boat camping – whether that takes place on your boat or by taking your boat to a remote destination for a new camping adventure!
As with any type of camping, preparation is key. Research the right anchorage for your boat before heading out, and pack everything you might need — even if it's just one night. Here are some questions you might want to consider while formulating your packing list:
Will you be sleeping aboard your vessel or on land, after docking or anchoring nearby?

How will you safely store perishable items, particularly if you're camping where wildlife might be an issue? 

Are your navigational tools in proper working order and onboard?

Do you need a solar charging option for your mobile phone or other devices?

Where will you be going to the bathroom?

What will your water source be while away? Do you need to pack potable water?

How extreme will the temperatures be, especially overnight? 

Do you have a safety kit in case of an emergency?

Do you have the proper clothing and sleeping materials for the current temperatures?  
Tour the Changing Colors
"Fall has always been my favorite season. The time when everything bursts with its last beauty, as if nature had been saving up all year for the grand finale." – Lauren DeStefano
One of the best parts of fall (at least in our opinion!) is the incredible colors you can see once the leaves start to change. And, thanks to the water's clear reflection, this beautiful display is amplified when you view these colors from your boat's helm. Mountain lakes are especially perfect for this leaf peeping adventure. Just be warned: pictures will not do this experience justice!
Cast a Line with Fall Fishing
For those enthusiastic anglers out there who aren't ready to stop casting off anytime soon, the fall is still an exciting time for fishing! It's always a little more secluded and quiet out there on the water, which means the potential for more bites on your line. Autumn fishing hotspots typically include the edges of rivers, lakes, and bays where schools of fish get their feeding in before the cold, winter months arrive. 
Depending on where you're fishing, you can expect to see a number of types, including:
Walleye

Perch

Pike

Trout

Bass
Be sure to do a little research about what types of lures work best during the fall months when leaves have fallen and could potentially muddy the waters, so to speak. Check out these tips to find the perfect one to add to your tackle box!
Morningstar Marinas Can Help You Get Ready for the Cooler Seasons Ahead
At Morningstar Marinas, we pride ourselves on the community of boaters we've created across the Southeast's top boating destinations. Our facilities and services paired with our friendly and knowledgeable team members will help you quickly and efficiently get out there on the water, so you can start having fun! 
Preparing for the winter months ahead? We can help you with that, too! Whether you're looking for indoor, covered, outdoor storage or winterization services, we do it all. Reach out to our team today to get the process started. 
Morningstar Marinas is more than just a place to store your boat — we're here to offer you an unforgettable boating experience, every time. Learn more about our boat rentals and other marine services.